The News: Qadri wants Houses dissolved by tomorrow
January 15, 2013 - Updated 235 PKT
From Web Edition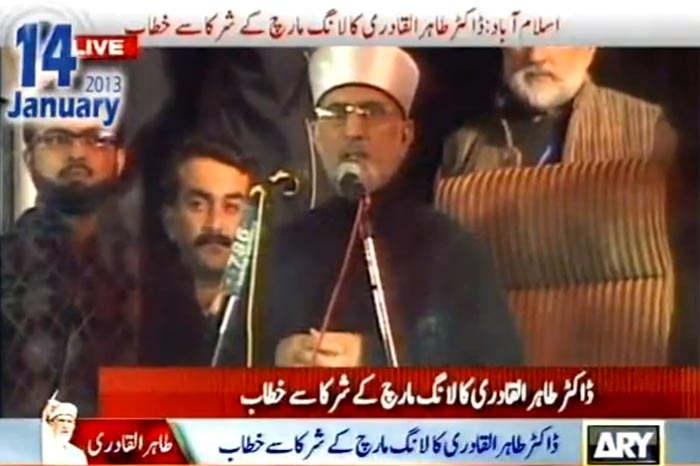 ISLAMABAD: Tehrik Minhaj-ul-Quran leader, Allama Tahir-ul-Qadri, after reaching Islamabad, warned the government to dissolve assemblies by tomorrow as he was declaring them null and void from this platform, Geo News reported.
"The ones sitting in the offices are erstwhile president and prime minister. Their time is up as our time is now", said he addressing millions of his devoted cohorts siting under the sky in the foggy cold night.
He demanded of the government to shift the venue of the sit-in in front of Parliament House.
"I will give them five minutes to move the stage and the lights to the place of our choice", said he.
He said he would address the long marchers in front of Parliament House and not here at Jinnah Avenue.
He said he was on "Hussaini Mission", which he would take to its logical conclusion.
He also extended his heartiest congratulations to his followers on the culmination of a successful long march, which he said marked the start of revolution from here.
"The end of the march is the beginning of a revolution", said Qadri.
Source: http://www.thenews.com.pk/article-83823-Qadri-wants-Houses-dissolved-by-tomorrow