MQI attends a seminar on interfaith harmony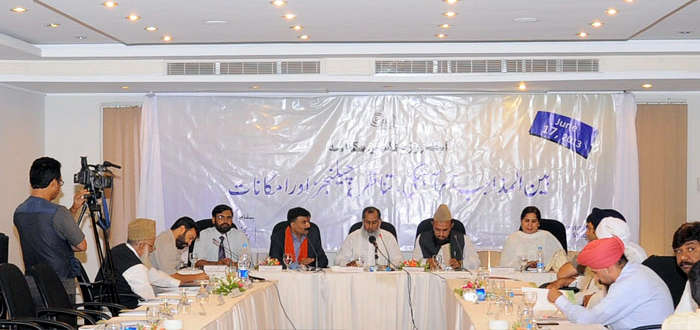 Pakistan Institute of Peace Studies organized a one-day seminar in Regency Hotel Islamabad. The seminar was devoted to the discussion on the subject of prospects of interfaith harmony, challenges and opportunities. Mujtaba Rathore was coordinator of the seminar.
Distinguished intellectuals, faith leaders and scholars of the country were invited to the seminar. Those who spoke at the occasion included Sohail Ahmad Raza, Director of MQI's Directorate of Interfaith Relations, leaders of Pakistan Church Bishop Irfan Jamil, Dr Rumesh Kumar, head of Pakistan Hindu Council, Sikh leader Sardar Sham Singh, Sardar Permajeet Singh, President of Pakistan Singh Gurdwarah Perbhandak Committee, Prof Dr Qibla Ayaz, VC of Peshawar University, and religious leader Allama Zubair Ahmad Zaheer.
In his speech on the occasion, Sohail Ahmad Raza threw light on global services of Shaykh-ul-Islam Dr Muhammad Tahir-ul-Qadri and MQI for promotion of peace and interfaith harmony in the world. He said that the world knew Dr Qadri as global ambassador of peace, integration and human development due to his contributions to bringing humanity closer on the basis of common and shared values. He emphasized the need of strengthening closer interaction to build bridges and increase understanding among followers of various religions. He said that social harmony could not be created without bringing about requisite reforms in syllabi being taught in the country. He said that increased interfaith interaction was key to removing misunderstandings and boosting confidence among various communities.