MWL protests sacrilegious attacks on shrines in Syria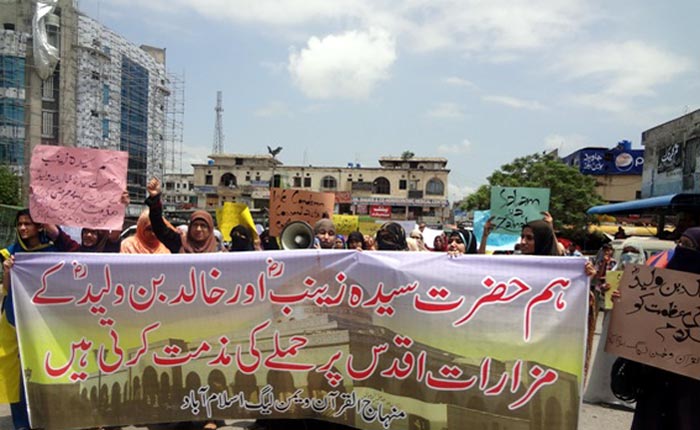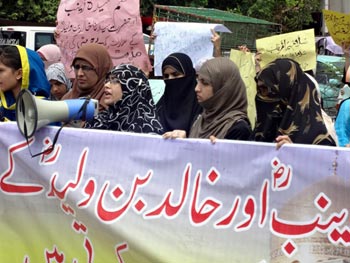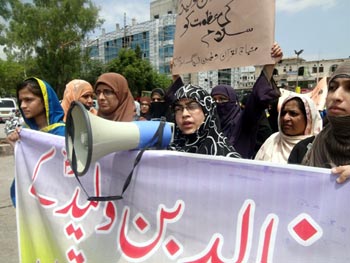 ISLAMABAD, July 24: A large number of women of federal capital belonging to all walks of life took to the street at Karachi Company to protest against the attack on the shrines of Sayyida Hazrat Bibi Zaynab (R.A) and Hazrat Khalid bin Waleed (R.A) in Syria.
The demonstration was organized by Minahj-ul-Quran Women League (MWL) Islamabad chapter. The women were holding placards and banners, condemning the sacrilegious acts in the strongest possible words.
Speaking on the occasion, President MWL (Islamabad) Razia Naveed said: "Those were not the attacks on the shrines of Bibi Zaynab (R.A) and Hazrat Khalid bin Waleed (R.A). They were the assault on the unity of Muslim Ummah."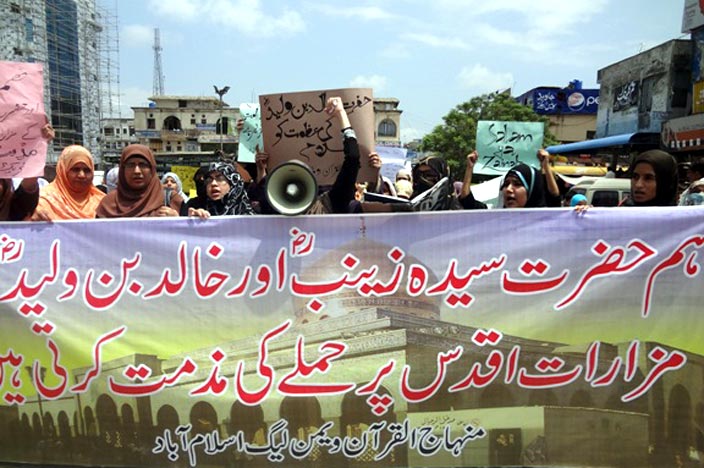 She said that the attacks were a conspiracy against Muslims and demanded that the world community should take notice of the incident. She called upon all the Muslims to get united irrespective of their religious affiliations and protest against the attacks. "We must show unity to tell the perpetrators of the attacks that we cannot tolerate such inhuman acts on our religious symbols and holy personages" she said.
Denouncing the attack, Vice General Secretary MWL Islamabad Naila Jaffar said that a joint plan of action was necessary to protect the sites that were holy for all sects of Muslims. Mrs. Nusrat Amin, Rubina Sohail, Salma Farooq, Sadia Shahid, Jamila Butt, Tayyba Salim, Hina Amin, Bushra Jaffar and many other office bearers were present at the event.