Sheikh Rashid announces support for protest rallies of PAT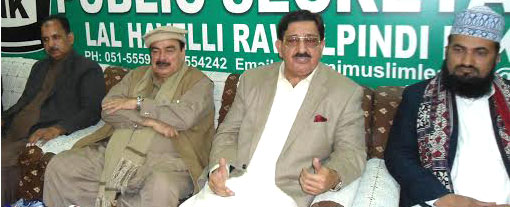 A delegation of Pakistan Awami Tehreek led by its Secretary General Khurram Nawaz Gandapur reached Lal Haveli to hold talks with the head of Awami Muslim League Sheikh Rashid Ahmad in Rawalpindi yesterday. The PAT delegation formally invited Sheikh Rashid to attend PAT's upcoming rallies on December 29 in Lahore and January 5 in Rawalpindi.
Talking to media men after holding talks with the head of Awami Muslim League, PAT Secretary General said that we have had close relationship with Sheikh Rashid, adding that there was complete consensus between both parties and their leaderships regarding our national challenges and the way forward to overcome them. He said that we had come to Lal Haveli to meet Sheikh Rashid on the special instructions of Dr Muhammad Tahir-ul-Qadri.
Khurram Nawaz Gandapur said that Sheikh Rashid had emerged as sole voice of the people and was playing the role of a real opposition in Parliament. He said that the leaderships of both parties had agreed to launch a joint struggle against oppression, exploitation, unemployment and price hike. He said that both parties had also agreed to stay in touch and hold more consultations in this regard. He also thanked Sheikh Rashid on his unconditional support to Pakistan Awmi Tehreek.
Speaking on the occasion, Sheikh Rashid said that we supported Dr Tahir-ul-Qadri during Long March. We were with him today for change in the system and would continue to stand by him in his struggle against the corrupt and exploitative system in future too. He said that the nation would soon hear good news about end of the system that was at the heart of our decline. He said that people were committing suicides while the ruling elite was making merry. He said that they did not have vision, planning or policy to improve the situation. He said that it was his desire that Pakistan Awami Tehreek, Pakistan Tehreek-i-Insaf and Awami Muslim League struggled jointly against the system, which could be fruitful.
Khurram Nawaz Gandapur, while responding to the comment, said that we invited PTI publically to join long march, adding that we believed in joint struggle by political parties having commonality of views on national issues and constructive mindset. He said that people's awareness was increasing. He said that the people were fed up with the policies of the present set of rulers. He said that the time was not far when the people would stand up against the system and send it packing for good and dawn of revolution and real democracy would set in.
Both leaders agreed that there was no real opposition in Parliament and if at all it was there, it was by name only. They said that the issues of public importance were being ignored. They said that no voice was being raised inside and outside the Assembly against price hike, unemployment, inflation, terrorism, militancy, and energy crisis etc. They said that a new economic crisis would be born in the country after the policy of privatization is pushed through, adding that the government, on the other hand, was 'facilitating' the big business barons to whiten their black money through various exemptions and packages.
The PAT delegation consisted of Malik Afzal, Malik Tahir Javed, Allama Haider Alvi, Riasat Ali, Ibrar Raza Advocate, Khawar Abbas, Mustafa Hussain Khan, Syed Shujat Kazami, and Mubasher Randhawa.