MWL (Islamabad & Gokeena) celebrate Quaid Day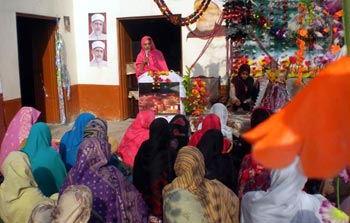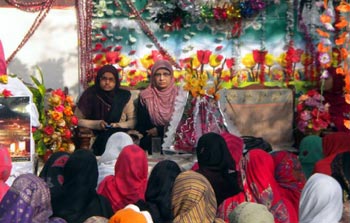 On 24th of February 2014, central body of Minhaj-ul-Quran Women League Islamabad chapter visited a beautiful village named 'GOKEENA' to celebrate the Quaid Day with the local body of MWL. After the Quranic recitation and naat, Director of MWL Gokeena welcomed office holders of MWL Islamabad. She threw light on the contributions and services of Shaykh-ul-Islam Dr Muhammad Tahir-ul-Qadri.
Miss Nabeela Qadri, Director Information, delivered her speech regarding the role of youth in the struggle for change. Mrs. Salma Farooq, Director Finance, paid a tribute to the services of Shaykh-ul-Islam and asked people to stand by Dr Tahir-ul-Qadri in his mission to bring about peaceful and democratic change in the country.
The speech of Dr Qadri that he delivered on 17th of March in Rawalpindi was played for 30 minutes. Later on President of MWL Islamabad thanked the local chapter for hosting them and arranging a programme to celebrate the Quaid Day in a befitting manner. She said that women had a great role to play in bringing about peaceful change in the country.
The programme came to end with a manqabat followed by cake-cutting by MWL Islamabad and Gokeena chapters.