'Out of box' thinking needed to defeat terrorism: Dr Hussain Mohi-ud-Din Qadri addresses 'Peace Conference' in Islamabad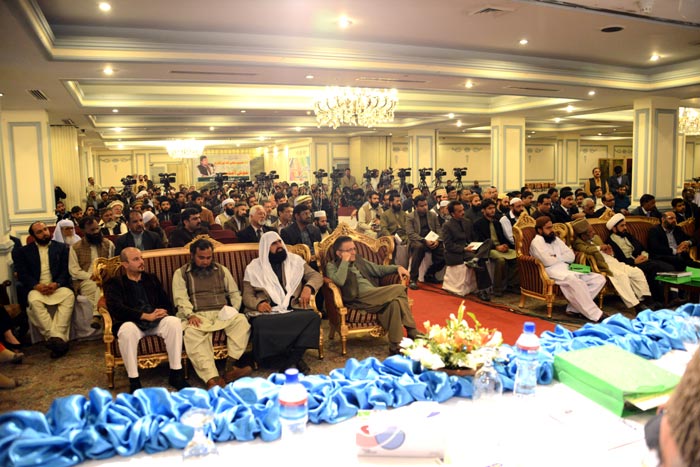 Dr Hussain Mohi-ud-Din Qadri, President of PAT Federal Council, has said that revolutionary steps are needed to uproot the scourge of terrorism from Pakistan, adding that the present rulers do not have the vision and capability to do that. He said that everyone knew as to who was responsible for lawlessness in the country, yet there was little clarity about taking on the enemies that had challenged the writ, nay, the very existence of the state. He said that efforts made for establishment of peace had not been successful, while lawlessness and human toll had been on the increase with the passage of time. He said that planning was undertaken many a time and military operations conducted to eradicate terrorism but unfortunately no solid and sustainable policy guideline was formulated for resolution of this grave issue.
Dr Hussain Mohi-ud-Din Qadri expressed these views while addressing the participants of 'Peace Conference' held under the banner of Minhaj-ul-Quran International (Islamabad chapter). The Conference was attended by people belonging to different walks of life including political leaders, human rights activists and officer bearers of MQI and PAT.
Dr Hussain Mohi-ud-Din Qadri said that incompetent politicians who were protector of the corrupt system could not give prosperous future to the nation. He said that PAT leader Dr Tahir-ul-Qadri raised a voice for electoral reforms by leading the Long March, now he would preside over a green and peaceful revolution. He said that Pakistan's destiny would undergo a transformation the day 10 million people would take to the streets to save the state under the leadership of Dr Tahir-ul-Qadri. He said that the so-called ruling elite that was were begging the terrorists for peace were concerned about their vested interests only, adding that given the mess the country found itself in, it was beyond the capacity of these rulers to reverse the tide and set the things back on track.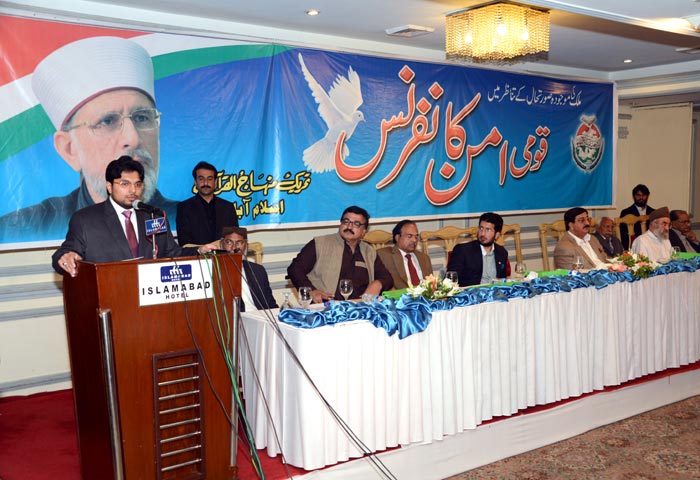 Dr Hussain said that Dr Tahir-ul-Qadri wad the real leader of the people who would not only save the state but also give bright and prosperous future to the nation. He said if every Pakistan turned the slogan of 'let us save the state, not politics' into a conviction, revolution would become the destiny of this nation. He said that revolution was the sole purpose of Dr Tahir-ul-Qadri's, adding that the last phase of his struggle spanning over 30 years had got underway. He said that a prayer of revolution was about to be established under his leadership wherein referendum of 98% of people would vote out the 2% of the privileged elite.
Dr Hussain Mohi-ud-Din Qadri said that Dr Tahir-ul-Qadri fought for supremacy of the Constitution and rule of law when he led a Long March to Islamabad. He said that elections to be held after the revolution would be instrumental in electing real representatives of people to Parliament. He said that present Parliament was manned by capitalists, feudal lords, political bigwigs and industrialists who were representing traders, farmers, peasants and labourers respectively. He said that these people could never raise the issues of the masses they presumably claimed to represent in the Parliament. He said that Pakistan needed a political arrangement whereby the powers were devolved to the grassroots instead of being concentrated in few hands. He said that the government of Pakistan should be for the people and elected representatives should be accountable to the electorate.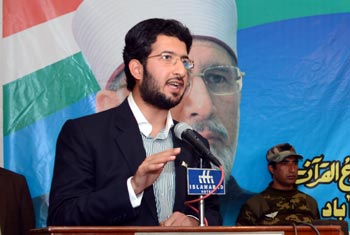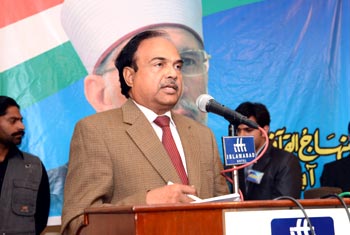 Speaking at the occasion, former Secretary of the Election Commission of Pakistan, Kanwar Dilshad, said that Dr Tahir-ul-Qadri spread awareness of rights among the people, adding that he was the sole leader who was waging a struggle for restoration of these rights. He said that people's revolution was the only solution to the myriad of problems confronting the nation. He said that changing the system was inevitable to save the state and in order to be able to change the system, political struggle under the leadership of Dr Tahir-ul-Qadri was the utmost need of the hour.
Sahibzada Sultan Ahmad Ali, Secretary General of Tanzeem-ul-Arifeen, said in his remarks that anti-Pakistan elements had brought the country to the brink of destruction. He said that they wanted to see Pakistan robbed of its nuclear status. He said that it was for this reason that conspiracies were being hatched to break the country by playing the people against one another on the basis of religion, language and ethnicity. He said that our rulers were also part of efforts to give regional leadership role to India.
Expressing his views in the Conference, central leader of Pakistan Awami Tehreek, Agha Murtaza Poya, said that Islam imparts the lesson of patience, peace, forbearance, sincerity and understanding, adding that the same must be reflected from our conduct. He said that Dr Tahir-ul-Qadri had been busy in shaping the character of people according to this golden principle throughout the world. He said that there were many who claimed to doing this but those actually rendering this ideal into reality and turning out to be ambassadors of peace for all irrespective of any discrimination were few and far between. He said that unless socio-economic justice was dispensed, it was difficult to establish sustainable peace.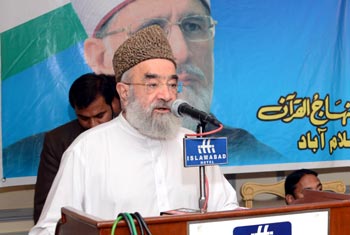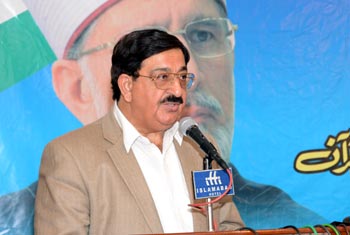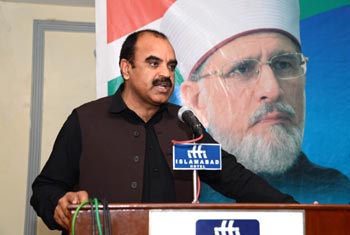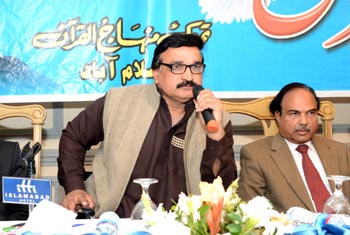 Pakistan Tehreek-i-Insaf leader Dr Israr Shah, while addressing the participants of the seminar, said that he gave 40 precious years of his life to PPP under the leadership of Mohtarma Benazir Bhutto. He said that the party for which he sacrificed the organs of his body, he left it at a time when the PPP came into power, adding that doing so was quite a difficult decision, given his long-time association with it. He said that Dr Tahir-ul-Qadri's slogan of 'let us save the state, not politics' had become the voice of the entire nation.
Khurram Nawaz Gandapur, Secretary General of Pakistan Awami Tehreek, said in his speech at the Peace Conference that we needed to revive our pledge to save Pakistan of the Quaid-e-Azam. He said that we would not hesitate to offer any sacrifice for security and survival of Pakistan. He said that PAT, its leadership and workers expressed their solidarity with the families of those who laid down their lives in the war against terrorism. He said that the Pakistanis were second to none in terms of capability and talent, adding that what they really lacked in was the leadership. He said that a leader of Dr Tahir-ul-Qadri's stature was present to fill in the void. He said that we should become part of the process of change.
The Conference was attended by a large number of people including Sardar Mansoor Khan, Umar Riaz Abbasi, al-Haj Sheikh Mumtaz Ahmad Islahi, Ibrar Raza Advocate, Malik Afzal, Allama Haider Alvi, Malik Tahir Javed, Javed Asghar Jajja, Farooq Butt, Usman Butt, Hafeez Awan, Ishtiaq Mir Advocate, Shamraiz Awan, Hafeez Kayani, Malik Sajid Mahmood, Ms. Nusrat Amin, Mrs. Nabila Qadri etc.