Minhajians to be leaders of revolution: Dr Hussain Mohi-ud-Din Qadri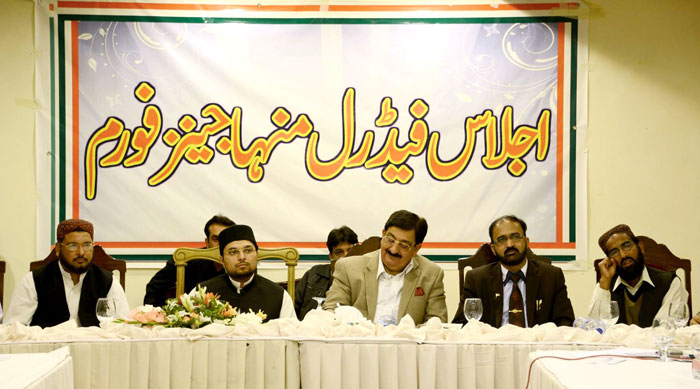 Federal Minhajians Forum (FMF), a representative forum of graduates of Minhaj University living in Rawalpindi and Islmabad, organized a ceremony in a local hotel to introduce its members to MQI President Dr Hussain Mohi-ud-Din Qadri. The proceedings of the introductory session got underway with the recitation of the Holy Quran by Hafiz Shahid Azeem followed by Naat that were presented by Ansar Ali Qadri and Zille-e-Hussain Qadri.
Some of the participants including Dr Akhtar Abid, Umar Riaz Abbasi, Muhammad Ali Johar, Hafiz Iqbal Ahmad, Abdul Shakoor Qadri, Ijaz Khan Saddozai, Gul Mast Khan, Sardar Najam-us-Saqib, Muhammad Tauqeer, Muhammad Hanif Qadri, Shamraiz Awan, Syed Zulifqar Hussain Shah, Sajid Hussain, Qaiser Masood Abbasi, Mohsin Abbasi, Haider Ali Bokhari, and Tahir Mahmood Awan gave suggestions to strengthen the Forum and make it more efficient.
All participants of the session gave a standing ovation to Dr Hussain Mohi-ud-Din Qadri on his arrival in the second session. Prof Rashid Masood Kalyami, patron of Federal Minhajians Forum, delivered welcome address. He thanked the chief guest for sparing time to attend the meeting. He also apprised him about the performance of FMF since its establishment in 2011 to date. All members introduced themselves to the chief guest individually.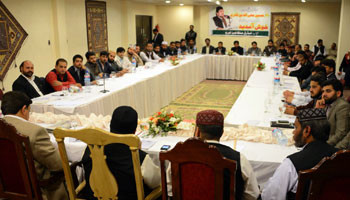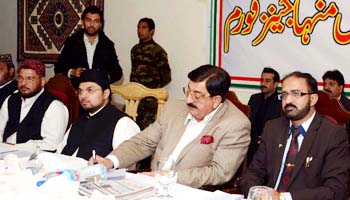 Expressing his views in the meeting, Dr Hussain Mohi-ud-Din Qadri welcomed the establishment of Federal Minhajians Forum. He said that he was immensely pleased to see graduates of Minhaj University rendering their services in various walks of life. He said that the influence of good company a student had during his formative phase stayed with him throughout his life. He said that Minhajians would be front runners during the revolutionary phase of MQI as its time came. He said that Minhaj University had a respectable and distinguished name in the private sector universities of the country.
Dr Hussain Mohi-ud-Din Qadri awarded a shield to Umar Riaz Abbasi on his excellent performance in electronic media on behalf of Federal Minhajians Forum. He lauded his services to convey Dr Tahir-ul-Qadri's message effectively at broadcast media. Muhammad Hafeez Kayani, Secretary of FMF, conducted the proceedings. The ceremony was attended among others by Muhammad Javed ul Qadri, Hafiz Muhammad Ehsan, Makhdoom M Niaz Inqalabi Advocate, Muhammad Saleem Shahzad, Hafiz Muhammad Akram, Muhammad Amjad Khan, Shafique Ahmad Awan, Sheikh Subhan Ahmad, Muhammad Naveed, Shafiq ur Rehman, Raja Zahid Khan, Muhammad Rizwan, Muhammad Afzal Butt, Asim Saeed Qadri, Adil Sufyan, Shahid Nawaz, Ijaz Ahmad Khan, Hafiz Muhammad Arif, Muhammad Ayub Abbasi and Shahid Azeem.