Welfare Camp (Jan 05), Islamabad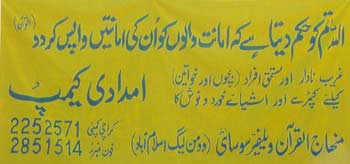 On 25th of January 2005 at Bari Imam, first women welfare camp (Eid packages) was organized by Minhaj-ul-Quran women league welfare society Islamabad for women who were deserving, widows and orphans. There were also some handicapped men. The packages were distributed among three hundred women, which cost about Rs.70,000/- and contained.
Flour, rice, sugar, grains, vermicelli packets, ghee, clothes and jewllary. All arrangements were struggled by Nazima Welfare MWL Gulnaz with her co-executive team. The most important thing was that, no political or social personality or none of the NGO was involved in any aspect. All funds and other things were collected by the workers theirselves within a month.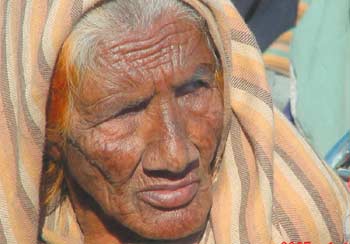 Central Nazima MWL Farah Naz, Naib Nazima Musarrat Bashir, Nazima Welfare Bushra Riaz were specially invited. Nazima IBD Tehmina Qayum describes our aims and objectives of these projects and also outlined our other activities. Whereas Ms Farsh Naz delivered a special lecture on importance of helping needy and poor. She said that this is one kind of jehad in the way of Allah, without any difficulty or burden and this step taken by MWL welfare wing is very positive attempt to bring revolution in any country. Each and every recipient was grateful to Allah as well as the organizers of the camp. The happiness shown on their faces was a real achievement of Minhaj-ul-Quran women league. Ex Nazima MWL Ibd Syeda Rehana Bukhari also contributed in all arrangements. Local body of MSM under supervision of Mr. Abrar Raza helped in some manners. Thus, the achievement of this success is contribution of all members mentioned above.
As this was the part of our mission, may Allah & SAW makes us real Mustafavi's and we would be able a part of a great revolution alongwith our Quaid. (Amin)
We believe:
If you can do any good thing
Do it now,
As you will not pass this way again.