Qadri says he's no less revolutionary than Lenin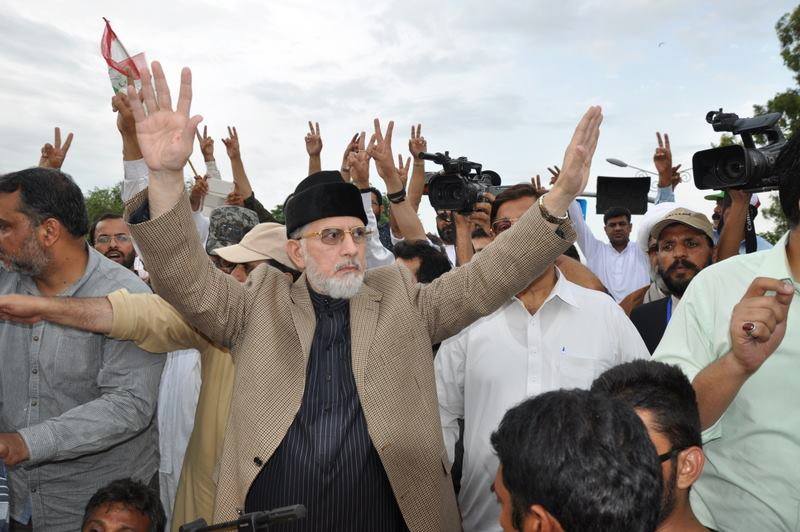 Pakistan Awami Tehreek (PAT) Chairman Tahirul Qadri has said that there is no bigger Lenin, Stalin or Marx than him, while stating that Pakistan will have a "system that will be in line with the Quran and the vision of Jinnah and Iqbal".
Speaking to a charged crowd of PAT workers in Islamabad on Sunday, Qadri lashed out at the present system, saying that the system is unable to catch thieves as it is "full of thieves itself".
Qadri and his supporters also chanted slogans of "Go Nawaz go!"
He said there would be no mid-term elections, adding that elections would only be held in the country once reforms were introduced. He said under current system, neither can corruption be eradicated nor can the people get their rights.
He said that the prosperity of people lies only in a change of the current administrative system, "which is not possible without a peaceful revolution".
"Revolution against the unconstitutional system is inevitable," he said.
The PAT chief said that the present government is the product of rigging and corruption and thus illegal and unconstitutional and would be the first to be held accountable after a national government is formed.
The PAT chief said that there will be no space for corrupt officers in the national government. He said that corruption will be eradicated completely from Pakistan and Rs 1,000 billion will be saved annually by curbing corruption.
"We shall end the system of financial terrorism through revolution," he said.
He said the so-called democratic governments cannot address the issues being faced by a common man. Pakistan has all the resources needed to solve the prevailing crises, he said, adding that the present system cannot deliver. Qadri said that rulers have declared the corrupted system as democracy. He ruled out talks about end of his revolution march and said talks could be held only with the participants of the march.
Source: http://www.pakistantoday.com.pk/2014/08/18/national/qadri-says-hes-no-less-revolutionary-than-lenin/
Source : http://www.pakistantoday.com.pk/2014/08/18/national/qadri-says-hes-no-less-revolutionary-than-lenin/