PAT will purge country of 'economic terrorism': Qadri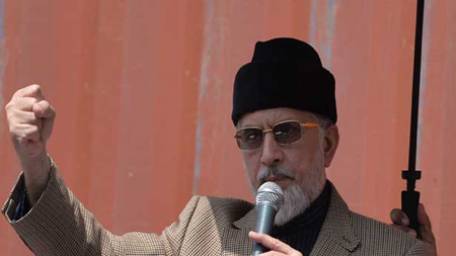 ISLAMABAD: Pakistan Awami Tehreek (PAT) leader Tahirul Qadri Sunday said Pakistan army crushed the terrorism of explosives and 'we will eliminate economic terrorism' from the country.
Addressing the participants of his party's sit-in that entered its fourth day today, Qadri said all resources were present in the country to implement the 10-point economic agenda proposed by him a day earlier.
"We won't even have to take loan of a single penny," he maintained, adding he has proposed the plan for making tens of millions of Pakistanis prosperous.
He lamented that Islamabad was presently facing severe crisis while the Prime Minister has moved to Raiwind.
"The government's days are numbered," he reiterated his claim and maintained that the system in place cannot ensure provision of justice to the people.
He said the current system is plagued by corruption and ruled out its cleansing under the present set-up.
Tahirul Qadri said the politicians have given corruption the name of democracy and that they intended to preserve it.
He said elimination of corruption is not possible until the system is overhauled.
The PAT leader said he was not in favour of a martial law and called himself a proponent of democracy. "But, we want democracy in its true sense and spirit."
He said he could present himself to anyone who intended to take his life.
Source: http://www.geo.tv/article-157078-PAT-will-purge-country-of-economic-terrorism-Qadri
Source : http://www.geo.tv/article-157078-PAT-will-purge-country-of-economic-terrorism-Qadri