I never refuse to hold talks: Dr. Qadri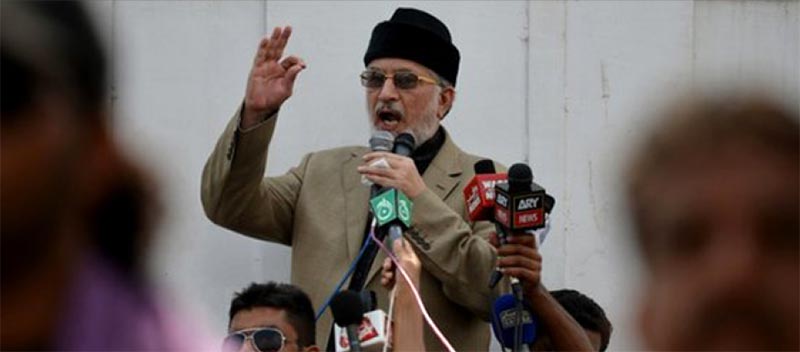 ISLAMABAD: Chief of Pakistan Awami Tehreek (PAT) Dr Tahir-ul-Qadri has denied refusing to hold dialogues with the government, though, he questioned whether the shedding blood of innocent people is justified, ARY News reported.
On Wednesday evening, Dr. Qadri initiated his speech asking participants of 'Inquilab March' to pray for the Muslims of Gaza.
Denying the reports that he has rejected to hold talks with anyone, PAT Chief said that no government official has visited them yet.
MQM Leader Haider Abbas Rizvi and Ijaz-ul-Haq were present with him on the stage. Making the two witness of this, he said "Haider Abbas Rizvi and Ijazul Haq were not sent by Nawaz Sharif, adding that they came because of MQM chief Altaf Husssain, and the Leader of the Opposition in the National Assembly Khursheed Shah".
Allama Tahir-ul-Qadri asked to those who talks about democracy that why innocent people were killed in the Model town incident and why any action haven't taken yet against those who were accountable for that.
Addressing Prime Minister Nawaz Sharif, Dr, Qadri asked "If Hamza Shahbaz, Hussain Nawaz and Mariam Nawaz were martyred and you were part of the opposition, what would be your reaction, would you keep supporting the law and the Constitution?"
Grieving further, PAT Chief questioned Mehmood Khan Achakzai, "If your daughter or son were killed the way people in Model Town were killed, would you have stood in the assembly and spoken about the derailment of democracy?"
Dr. Qadri said that he never refused for the talks claiming that the government hasn't sent any negotiating teams to him.
Source: http://arynews.tv/en/i-never-refuse-to-hold-talks-dr-qadri
Source : http://arynews.tv/en/i-never-refuse-to-hold-talks-dr-qadri/