We will not leave Islamabad till formation of National Government: Dr Tahir-ul-Qadri speaks in front of Parliament House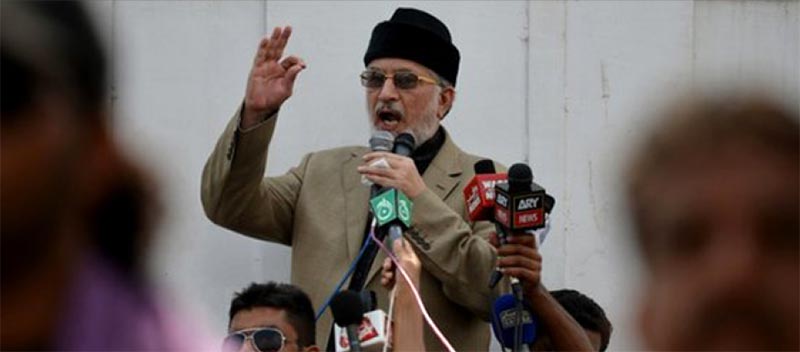 PAT leader Dr Muhammad Tahir-ul-Qadri has said that Nawaz Sharif is equally involved in the Model Town tragedy and that he should resign immediately. He made it clear that participants of revolution march would not leave unless the national government was established.
Caravan of PAT activists left Khayaban-e-Suharwardi and was able to reach the Constitution Avenue in the red zone in front of Parliament on Monday night. The marchers removed the containers and other barricades on the way with the help of a crane. Hundreds of thousands of people including women and children were part of revolution march. Women formed the front rows of the march.
Addressing the marchers at D-chowk in front of Parliament House, Dr Muhammad Tahir-ul-Qadri said that Allah Almighty helped the poor, the downtrodden and less advantageous sections of society today who had been at the receiving end of the exploitative and cruel government and whose near and dear ones were martyred on June 17 in Model Town. He said that Shahbaz Sharif ordered the mass killing of people after approval of his elder brother Nawaz Sharif, for he could not even think of taking such a step without his brother's consent. He said that black history was chronicled on that fateful day when the police committed worst ever state terrorism on MQI Secretariat. He said that Not only the Punjab Government but the Federal Government was also involved in this crime of monumental proportions with whose consent the bullets were fired at unarmed and innocent civilians.
Dr Qadri said that he had had a long-running relationship with the Sharif brothers and their families and they would visit him at his residence in the past. He, however, added that these people approved firing at his residence and secretariat which was not possible without their consultation. He said that the Sharif brothers wanted to kill his family. He said that had it been a matter of removing barriers installed at his residence or an expression of difference from his philosophy of revolution, these issues could have been settled through political engagement and dialogue. He said that it never happened in any civilized society that political were killed due to political differences.
He said that the government had failed to protect people's lives, honour and properties, adding that the Punjab government was patronizing terrorists and both were protectors of each others. He asked the people to protect themselves. He said that barriers were also placed at the residences of the rulers but added in the same context that it was not about barriers; rather they wanted to stop revolution from happening. He said that they used armed police to martyr our workers in this attempt but the blood of martyrs had provided a strong foundation for people's revolution.
Dr Tahir-ul-Qadri said that state terrorists raided MQI premises at night and killed the workers with live bullets besides injuring dozens of them. He said that when the government, whose primary responsibility was to protect life of its citizens, became a killer and took every step to stop the registration of FIR, revolution would become the requirement of such societies. He said that despite an explicit order of the Additional District and Sessions Judge, police had refused to register FIR due to fear and pressure of the Sharif brothers. He said that registration of FIR was basic right of every citizen and it did not mean announcement of punishment. He said when the Prime Minister and ministers would kill people and snatch their constitutional rights, then they had no right to stay in power. He said that it was not fair to describe this cruel system as democracy and the questionable conduct of rulers as constitutional and legal.
Dr Tahir-ul-Qadri said that had there been rule of law in the country, the innocent people would not have been shot to death because the Constitution and law of the land did not sanction this. He said that if this kind of cruel treatment could be meted out to such a broad-based movement, what was the condition of a common man? He said that all institutions had been politicized and made answerable to rulers only instead of being loyal to law and the Constitution. He said that since the Islamabad police was not under the command of Shahbaz Sharif, it was for this reason that they did not fire at the protestors. He said that contrarily, Punjab police was a personal servant of Shahbaz Sharif who used it to kill and silence his political opponents. He said that a society where law lost its effectiveness was in need of revolution and drastic change.
PAT leader said that all institutions of the state were being run at the whims of the present rulers. He said that the Chairman NADRA was woken up from sleep at 2 am at night and handed down termination letter, for he had refused to be co-opted. He said that PEMRA was manned by personal servants who were extending complete protection to those who were spewing venom against the armed forces. He said that a government whose ministers would criticize the armed forces had no right to stay in power. He said that the floor of National Assembly was used to make anti-army speeches, which was in violation of the Constitution, adding that the rulers should be proceeded against under Article 6 of the Constitution. He said that the part of the Constitution which talked of fundamental rights of people had been suspended. He said that if a treason case could be filed against Pervez Musharraf for suspending Constitution, the rulers had also done the same and should be meted out the same treatment.
Dr Tahir-ul-Qadri said that a loud noise of protecting democracy was being made today. He asked as to where these defenders of democracy were when innocent people were shot at and killed, adding that why they did not speak up then. He said that these people were beneficiaries of the system and protector of the status quo. They would only speak at the top of their voices when the victims would stand up for their rights. He said that these people were partners in corruption. He vowed that reign of corruption and plunder of resources would not be allowed to continue. He said that political and electoral reforms would be introduced and people with clean character would come to the assemblies. He said that after revolution, people would have access to basic necessities of life such as food, shelter, clothes, education, health and socio-economic justice. He said that new provinces would be created and powers would be devolved at the grass-roots. He promised that people would reap the benefits of participatory democracy. He said that it was unfortunate that they had been kept deprived of their constitutional rights for many decades. He said new amendments would be introduced to empower the masses and ensure their progress and prosperity.
PAT leader said that thieves, robbers, and tax evaders would not be able to get elected to the assemblies now. He said that new political arrangement was not possible unless the Sharif brothers resigned and handed themselves over to police. He said that assemblies should be dissolved because they were unconstitutional and came into being under an unconstitutionally formed Election Commission. He demanded that new national government should be established with a mandate to introduce reforms in the system and then hold elections. He said that revolution was the only means to end darkness, steer the country out of multiple crises and get rid of monopoly of the ruling elite. He said that revolution march would remain peaceful and there would be no violence or bloodshed. He said that we would prove to be peaceful till the last moment of our struggle. He made it clear that unless revolution came, we would not leave Islamabad.
Dr Qadri directed the workers to respect sanctity of state buildings and not to enter them under any circumstance. He said that we would use our democratic right of protest and force the rulers to resign from their positions.