Our struggle is democratic, legal and constitutional: Dr Tahir-ul-Qadri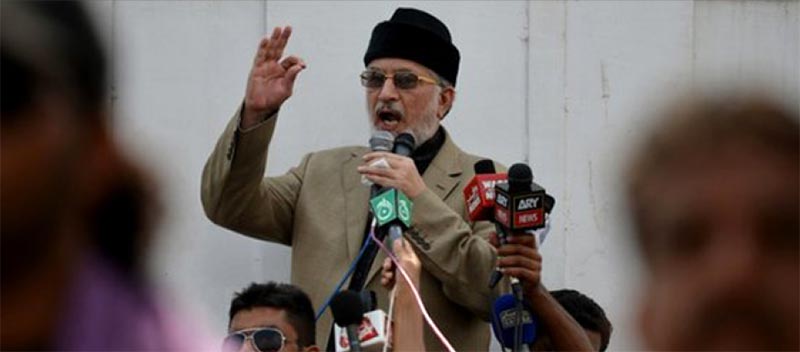 PAT leader Dr Muhammad Tahir-ul-Qadri has said that the Chief Minister of Punjab is running the federal government and he is the real Prime Minister of the country. He said that it should be answered as to why he paid 200 visits to Islamabad in 14 months on official expenses.
Dr Qadri said that the Constitution was not merely a written document, which should be referred to by way of passing or to justify one's positions. He said that it was wrong to selectively implement those Articles of the Constitution which benefitted ruling elite and keep those Articles suspended that dealt with people's rights. He said that according to the Constitution, all powers belong to Allah Almighty and the people used these powers as a sacred trust through their elected representatives. He said that the fact of the matter was that all pledges and commitments made with the people of Pakistan had been violated with abandon. He said that first 40 Articles of the Constitution had remained practically suspended while the powerful elite reaped all dividends at the cost of the masses.
Dr Tahir-u-Qadri made it clear that PAT's struggle was 100 per cent democratic, constitutional, and legal and based on human rights. He paid rich tributes to the members of legal fraternity for supporting this great struggle for people's empowerment. He said that it had been 41 years since the Constitution had been in force but the problems of the people had continued to pile up by the day. He said that while people's lives had been rendered miserable due to policies of the rulers, they had been making hay during their stints in power. He said that the Sharif family was one of the biggest defaulters and owed Rs. 10 to 15 billion to various banks.
Dr Qadri said that there were two sets of laws for the rich and the poor. He said that two months had gone by since the Model Town incident on June 17 in which around 100 people were shot and 14 of them were martyred but FIR of the incident had not been registered so far. He said when subordinate judiciary ordered police to register FIR, review petition was kept pending till leaves of Justice Manzoor Malik were got cancelled and he was made an acting Chief Justice. He said that Justice Manzoor Malik was a lawyer of the Sharif brothers in plane hijacking case. He said that Parliament was handmaiden of the ruling family and they would bring about an amendment in the Constitution exempting the ruling family from any legal proceedings if any of them murdered anyone.