Revolutionaries, stay steadfast. Success is your destiny: Dr Tahir-ul-Qadri addresses Juma-e-Inqilab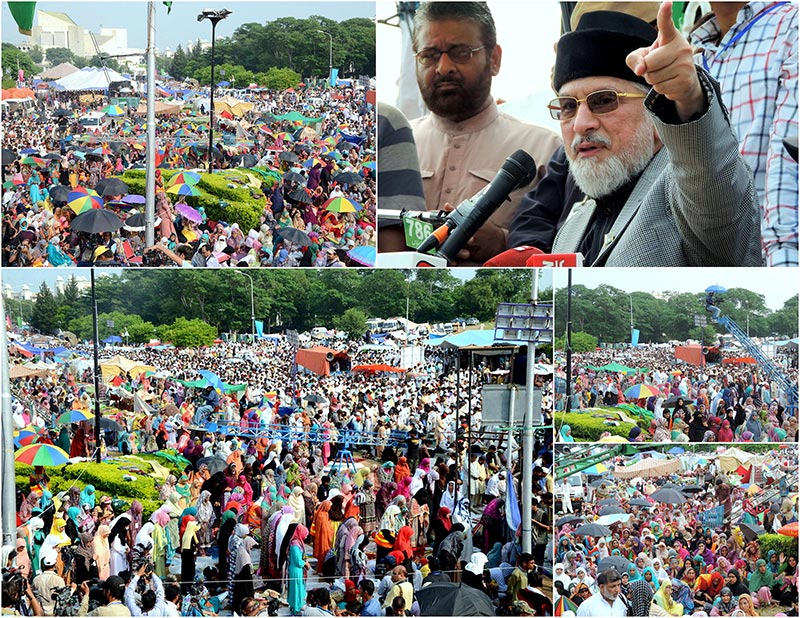 PAT chief Dr Muhammad Tahir-ul-Qadri has said that prayer on the occasion of Juma-e-Inqilab has been offered on the Constitution Avenue before Parliament House for the first time in history of the country. He said that a Muslim is an incarnation of peace, adding that neither does he commit any excess on others nor does he let anyone else to commit repression on him. He said that lack of access to basic necessities of life such as employment, shelter, and food etc was oppression of worst kind and according to the saying of the Holy Prophet (SAW), rising against this repression was binding on everyone. He said what else could be greater injustice that innocent and unarmed civilians were killed and no action was taken to redress their legitimate demands. He said that the Holy Prophet (SAW) said: whosoever would leave the victims helpless would not be from among his Ummah.
Dr Qadri asked: Is imposing a blockade on supply of food, water and other eatables a democracy? Is getting the unarmed and innocent people killed and then refusing to register FIR a democracy? He said that the present rulers were proving to be Yazids and Pharaohs of the times. He said that participants of the revolution march braved all the hardships when they were besieged in Model Town but remained steadfast. He said that the height of oppression was that FIR of 14 martyrs and 80 injured had not been registered despite passage of two months and an explicit order by a Sessions Judge. He said that the poor would not get any justice as long as present rulers remained in power.
PAT leader, while addressing every state institution and bar councils of the country, asked whether the poor could get justice while the Sharif brothers were in power. He asked them to make any of five pillars such as Constitution, law, democracy, morality and humanity the touchstone and decide for themselves. He questioned as to why they were at a loss for words while talking about meting out justice to the Model Town victims. He said that the rulers were killing people while sitting in Parliament on the front of which was written 'Kalma' and had the gall to trumpet the mantra of democracy at the same time. He said that they had made the Constitution and law their handmaiden and were playing with the future of this country. He asked whether any state institution had the power to hold rulers by the collars and make them answerable for their actions.
Dr Qadri said that 14 people were martyred on June 17 and over 80 of them sustained serious bullet injuries. He said that FIR of the incident was not registered on the application of Minhaj-ul-Quran administration. He said that it was on August 16 that an Additional District and Sessions Judge ordered the registration of FIR against 21 accused including the Sharif brothers but no case had been registered till August 22.
He said that he wanted to tell the people of Pakistan through media that getting justice was impossible as long as these rulers remained in power. He said that police stations, courts and other institutions had been shackled and they did not have the courage to confront the rulers. He said that three judges changed in two months and it was the third judge who passed the order for registration of FIR but it was not complied with.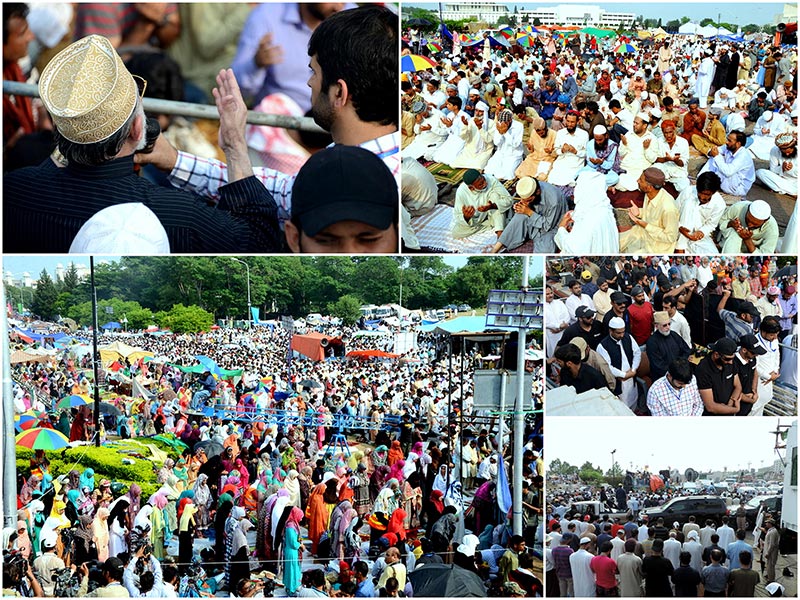 Dr Tahir-ul-Qadri then told about an interesting fact. He said that following order of the Sessions Judge, neither was FIR registered nor review petition was filed in the Lahore High Court despite passage of a week. They should have immediately filed the petition but there was a method to madness.
Dr Qadri made it clear that he was not making any accusation nor scoring a point. He was merely raising questions that deserved to be raised. He further told that review petition was kept pending till Chief Justice Khawja Imtiaz went on 15-day leave or was sent on two-week leave. He said that in the meantime Justice Manzoor Malik, the senior most judge in line, who was on leave till September 09 either was 'requested' to get his leaves canceled or got them cancelled himself. He reminded that Justice Manzoor Malik was the same judge who represented Nawaz Sharif in plane hijacking case. He joined Lahore High Court day before yesterday and was made acting Chief Justice a day ago. He said that it was after he started working as acting Chief Justice that review petition was filed. He made it clear that he was not casting any aspersion on anyone nor was he making accusation, adding that he was merely putting the facts straight.
He said that the acting Chief Justice should not hear the review petition because he remained associated with Nawaz Sharif as his lawyer and it was also demand of justice. He said that now the order of the Sessions Court would be set aside and new order passed.
Dr Tahir-ul-Qadri revealed that Shahbaz Sharif made 200 trips to Islamabad in last 14 months in official plane. He asked as to why the so-called members of National Assembly had gone mum and why they did not offer any answers to his questions? He said that Shahbaz Sharif consumed oil of Rs. 200 million on his air travel. He asked as to what was the reason of his shuttling between Lahore and Islamabad. He asked why the Chief Minister of other provinces did not come to Islamabad that often. He asked under which Article of the Constitution did Shahbaz Sharif keep on visiting Islamabad? He asked the developed democracies whether they would allow their functionaries to waste national resources on their personal trips. He said that Pakistan did not have anything resembling democracy and law in the country. He said that while people were dying of hunger, the privileged class was making merry.
Dr Tahir-ul-Qadri asked the revolutionaries to stay put. He said that the rulers were giving in psychologically and their legs were trembling. He said that success was their destiny. He asked the entire nation to come out of their homes and take part in historic moment of reshaping Pakistan.