Doors of meaningful talks always open: Dr Tahir-ul-Qadri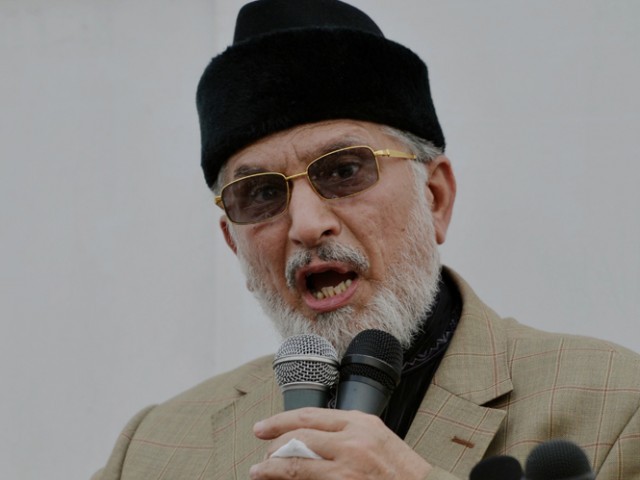 PAT chief Dr Muhammad Tahir-ul-Qadri has said that we have always kept the doors of talks open and that they will continue to remain open but warned that if truth was betrayed and he was martyred, the Parliament House will become graveyard of martyrs.
Dr Tahir-ul-Qadri expressed these views while addressing hundreds of thousands of participants of revolution march. He said that Allah Almighty bestowed perseverance on participants of revolution, adding that this perseverance would certainly bear fruit. He said that we had no other support except mercy, blessings and support of Allah Almighty. He said that real test lay in standing one's ground, adding that if people did not waver, the enemy was destined to fail. He said that even if any of our enemies came for talks, he would certainly listen to him and also state his point of view to him fully and comprehensively. He said that he was even willing to talk to Nawaz Sharif and Shahbaz Sharif if they came for talks with him.
Dr Tahir-ul-Qadri said that by the grace of Allah Almighty, he could neither be scared nor browbeaten into submission. He said that firstly our demands would be accepted and we would get our rights. Otherwise, Dr Tahir-ul-Qadri would be the first person to be martyred in front of Parliament House. He warned if he was martyred, this Parliament House would become Monument of Martyrs with thousands of martyrdoms and it would become martyrs' graveyard.
Dr Qadri said that our first demand was registration of FIR against those involved in the incident and Qisas of martyrs' blood in Model Town incident. He made it clear that we were peaceful people, adding that peaceful people listened to others but made them listen to our point of view. He said that this is Sunna of Allah and His Prophets. He said that there were two ways open to the rulers. He said that they should either listen to the poor and accept their demands or Parliament House would become martyrs' graveyard. He said that these people came for Qisas of martyrdoms and 10-point reform agenda. He made it clear that they would not go back till acceptance of their demands. He said that even if all world powers got together, they could kill him but not make him budge even a single inch from his stated goal.