Dr Tahir ul Qadri gives 48-hour deadline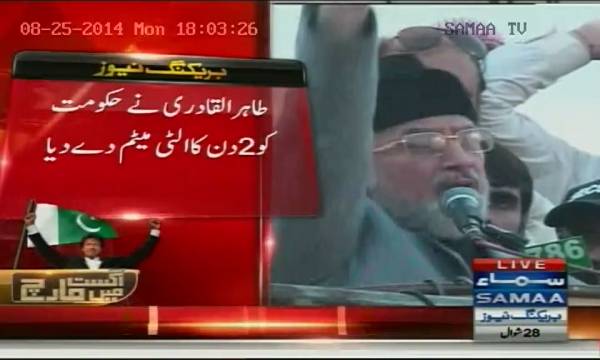 ISLAMABAD: Pakistan Awami Tehreek chief Dr Tahirul Qadri Monday announced 48-hour deadline to the federal government to fulfill his demands.
"This dharna has now entered the 'last phase' from today," he said while addressing participants of his Inquilab March at Constitution Avenue.
"After my address, our protest will enter the last phase," he said, while demanding that prime minister and all ministers should resign before the deadline.
He said after revelations by Afzal Khan, ex-official of ECP, that the May 2013 election process was rigged; there is no justification for current national and provincial assemblies.
"I demand Nawaz Sharif to step down after these revelations," he roared.
He also demanded that an investigative report on the Model Town tragedy should be made public and published in national newspapers.
"I and my workers are not going anywhere," Qadri said.
Displaying a white shroud, Qadri also announced in a somber voice that today he has resolved to become a martyr for the betterment of 180 million people of Pakistan.
"Either I will wear this 'kafan' or Nawaz Sharif's government will wear this," he said.
"There is no one in this country to take care of the poor."
PAT launched its Inquilab March on August 14 and marched on capital Islamabad in protest against brutal killing of its workers in Lahore in June.
Qadri eulogized the patience, endurance and perseverance of his followers since the Model Town tragedy.
Dr Qadri is demanding resignation and arrest of prime minister and chief minister Punjab. He is also seeking a complete overhaul of the system of governance, sweeping electoral reforms and other revolutionary measures. – Samaa
Source: http://www.samaa.tv/pakistan/25-Aug-2014/qadri-gives-48-hour-deadline
Source : http://www.samaa.tv/pakistan/25-Aug-2014/qadri-gives-48-hour-deadline