Dr Tahir-ul-Qadri gives 48-hour deadline for acceptance of demands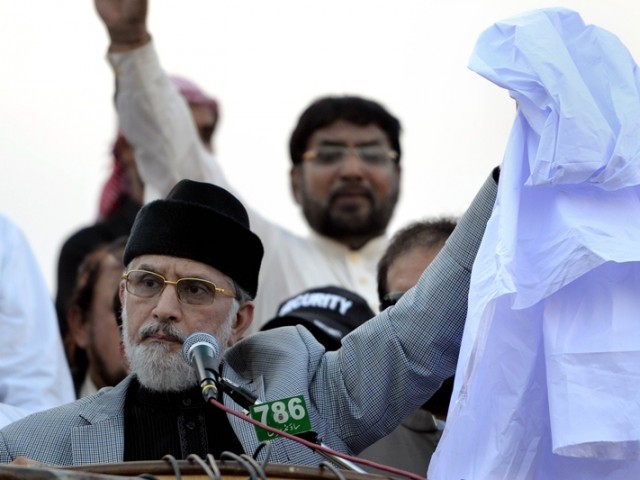 Giving 48-hour ultimatum to the government, PAT leader Dr Muhammad Tahir-ul-Qadri has demanded that assemblies should be dissolved before expiry of his deadline, adding otherwise people will be free to make their own decisions. He said that there was only one shroud in which either he would be wrapped or rule of Prime Minister Nawaz Sharif would go.
Addressing participants of revolution march on the Constitution Avenue in front of Parliament House on August 25, Dr Tahir-ul-Qadri paid rich tributes to marchers for displaying extreme amount of forbearance, patience, resolve and courage in their 12-day long sit-in. He said that there was no disagreement on the fact that Pakistan's history did not witness such sea of people and that these people put up an excellent example of organized political conduct, patience and restraint despite all odds stacked against them.
Dr Qadri announced to convert the revolution march into last and final phase of revolution on the occasion. He said that it was the blood of martyrs of Model Town incident that laid the foundation-stone of revolution and it was due to people's sacrifices and selflessness that they had come to this stage.
Dr Tahir-ul-Qadri said that he did not want his sons and daughters to be exposed to extreme harsh and scorching weather for long nor could he make them suffer more hardships. He said that those sitting in corridors of power did not have heart and their conscience was in deep slumber, adding that they were insensitive to the sufferings of the people of sit-in. He said that no one saw such long sit-in in the history of Pakistan but the rulers were not moved and they went about motion of dialogue just to waste time knowingly.
He said that had the rulers not shut down the entire country with containers, both Islamabad and Rawalpindi would have failed to accommodate mass of people coming from across the country. He said that the government resorted to draconian administrative tactics to ward off protesters. They blocked all cities, placed containers on exit and entry points and conducted worst crackdown on PAT workers days ahead of Martyrs' Day on August 10. He said that 25,000 active workers of PAT were arrested in run up to August 10 event. He, however, added that despite such harsh measures and allied Police brutality, people still came out in their hundreds of thousands to fight for restoration of the rights of the poor.
Dr Tahir-ul-Qadri said that the poor did not carry any importance or value in the eyes of the ruling class. He said that they were nothing more than insects and scum of earth. He said that the rulers believed that participants of the sit-in will be tired and forced to go back home. He said that as long as he was present there, none of the people would go back.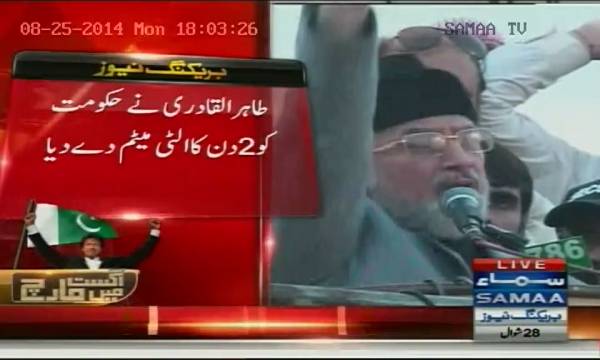 He said that he considered present assemblies and so-called elected dispensation as illegal, illegitimate and unconstitutional from day one because they came into being as a result of fraudulent and questionable electoral exercise presided over by an Election Commission which was unconstitutionally-composed in violation of Articles 213 and 218 of the Constitution. He said that no political party had the courage to point out illegal constitution of the Election Commission. He said that when he filed a petition in the Supreme Court, one politician in the garb of judge had clear directions from Raiwind who veered the proceedings in a different direction and shied away from hearing the case on points of law. He said that when elections were unconstitutional, how could assemblies and the government be constitutional?
Dr Tahir-ul-Qadri said that we had warned Imran Khan about the likely outcome of May elections and that he would rue the day. He said that Khan later on admitted that we were right in predicting the outcome of elections. He said that Afzal Khan, former Additional Secretary of Election Commission, had put a seal of approval on our point of view by coming up with startling revelations regarding rigging in elections. He said that after disclosures of former ECP official, the government and assemblies had lost even moral standing to stay in power. He said that there was now no need to go for investigation as the high official of corrupt Election Commission had lifted the veil from its shoddy dealings himself.
Dr Tahir-ul-Qadri asked the Nawaz government and its ministers to leave corridors of power and dissolve assemblies as they did not have any legal and moral basis to hold public office any more. He demanded that the report of one-man Judicial Commission formed by the Punjab government itself should be made public before the expiry of his deadline. His third demand was that report of Joint Investigation Team (JIT) along with dissenting note of independent members should also be released to media and people so that the people could know as to what was written in it. He further demanded that FIR of Model Town incident should be registered and all the accused should be arrested before end of his deadline.
Dr Qadri said that the poor and downtrodden sections of society had no rights in this country. He said that FIR of such a huge tragedy had not been registered despite passage of more than two months and explicit order of a Sessions Judge. He said that courts and law were helpless before powerful rulers. He said that the masses had no right except buy their shroud and there was no institution that might listen to their voice and address their grievances. He said that he took bath today with an intention of martyrdom, for it was far better than dying of hunger, thirst and humiliation. He said that the rulers had torn the Quaid-e-Azam's dreams into shreds and those for whom this country was created had no rights whatsoever except to die. He said that law, democracy and Constitution of the country were for the rich and powerful, adding that we would fight this war till last. He said that only two ways were open i.e. either he or rule of Nawaz Sharif would stay alive.
Dr Tahir-ul-Qadri said that if this cruel system was wrapped up in shroud, it would be a resounding victory of the poor and if the brute power ended up being victor, it was he who would be wrapped in this shroud. He said that he would have no responsibility after the deadline passed. Addressing the people sitting in homes and watching TV, he said that it was not time to sit it out. He asked the people to join revolution in their hundreds of thousands, adding that if they squandered this opportunity, the coming generations would not forgive them. He said that a man having the courage to clash against cruel rulers was not born every day.