We want to make Pakistan greatest: Tahirul Qadri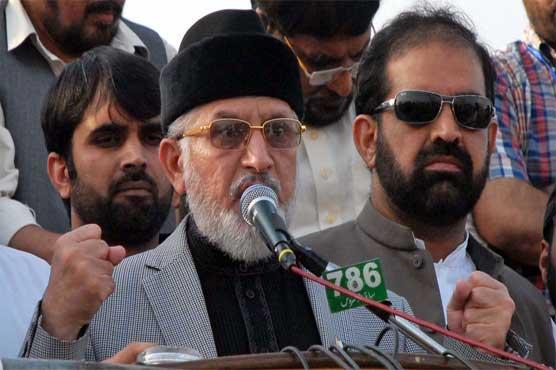 PAT chief says rulers are holding millions of people hostage; we won't return without revolution
ISLAMABAD: (Dunya News) – Pakistan Awami Tehreek (PAT) chief Dr. Tahirul Qadri has said that he wants to make Pakistan to be the greatest of great countries. He said that the rulers have held millions of Pakistan hostage. "We shall not return without revolution", said Tahirul Qadri.
Speaking to the participants of the sit-in today (Saturday) in Islamabad, Tahirul Qadri said that despite being a free country, people of Pakistan never got the economic and social freedom. He said that national assets were looted throughout Pakistan's history. National wealth was spent by the rulers on their own luxuries, said Qadri.
Dr. Qadri said that the 'revolution march' has woken up the nation. "I gave up on my ease for the sake of the nation's future", PAT chief said. He added, "I was called a rebellion in the Parliament but still we shall not return without revolution". Qadri said that the current Parliament did not consist of public representatives. It was families' parliament.
Source: http://dunyanews.tv/index.php/en/Pakistan/235648-We-want-to-make-Pakistan-greatest-Tahirul-Qadri
Source : http://dunyanews.tv/index.php/en/Pakistan/235648-We-want-to-make-Pakistan-greatest-Tahirul-Qadri