New social contract to pave way for real democracy: Dr Tahir-ul-Qadri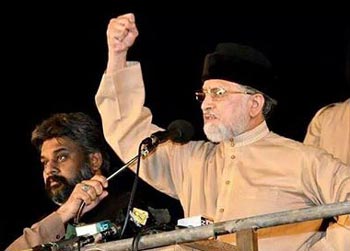 PAT leader Dr Muhammad Tahir-ul-Qadri has appealed to PAT workers and people of Pakistan to come forward and play their role in rescue, relief & rehabilitation efforts for the flood victims. He said that our people are in trouble and it is our individual and collective responsibility to help them in this hour of trial and tribulation.
Dr Tahir-ul-Qadri expressed these views while addressing participants of revolution march in front of Parliament House on September 7. He said that the present corrupt rulers have played with destiny of the nation and kept masses deprived of their basic rights. He said that our struggle is for establishment of real democracy. He added that people have come to know about lies & jokes of the ruling elite that the latter have played with them for decades on end. He said that while parliamentarians increased their salaries by 200%, the poor are without basic necessities of life. He said that his movement for change is broad based and even people from abroad are also part of revolution march.
Dr Qadri said that change of system is not possible through present Parliament as it was manned by interest groups and status quo forces that are out to protect their perks and privileges. He said that his struggle is for restoration of rights of the people. He said that we are fighting for protection of rights of our non-Muslim brothers and sisters. He opined that some people are raising this baseless allegation that people were paid to join revolution march. Rejecting this allegation, he said that nothing can be farther from truth. He clarified that what passes off as a system in the country is not democracy but a system of oppression & compulsion.
Underlining the concept of democracy, Dr Qadri said that democracy is a system where people have instant access to socio-economic justice and basic necessities of life. He said that rulers suspended 23 police officials over killing of their peacocks but did not take any action on the killing of 14 people. He said that the system of this country breeds and perpetuates corruption in the country. He emphasized that these rulers do not have any mandate as they came to power through fake elections.
He asked the rulers not to force unarmed people for war and settle their issues without further waste of time, adding otherwise they will become hungry lions. He said that he wants to send oppressive system packing for good by tearing it into shreds. He said that he does not care if he is silenced with a bullet but said that he will wake millions of people. He said that he is fighting for practical implementation of Quaid-e-Azam's & Allama Iqbal's vision. He said that elections are fraud under the present system and no change will come about.
Dr Tahir-ul-Qadri said that we want a new social contract in this country, adding that we reject present social contract which has died its own death as people remain disenfranchised and powerless. He said that his goal is to wake people up from slumber. He asked the Pakistani nation to rise and learn to fight oppression. He said how can anyone vote freely if he does not have access to food, clothes, and residence? He further stated that there can be no democracy in this country unless all people are equal before law and Thana & Patwari culture continues to prevail.
Dr Qadri made it clear that he will go down fighting but would not budge even an inch from his mission of fighting for equality for everyone. He said that democracy is a system where corrupt Prime Minister and ministers are held accountable. He said that he wants to change the system of oppression, which is at the heart of all crises the country has been facing for a long time now.