Dr. Qadri links sit-in end to constitutional amendment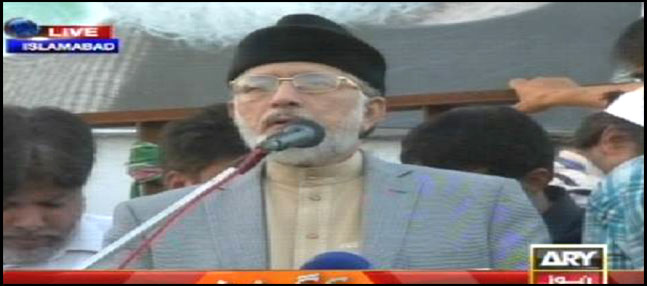 ISLAMABAD: Pakistan Awami Tehreek chief Dr. Tahirul Qadri has hinted at ending his sit-in if government make an amendment into the constitution, ARY News reported Monday.
"An amendment should be made in the constitution that no case will be filed against the rulers even if they commit a murder," he said while referring to the Model Town tragedy in which around two dozen people, mostly PAT workers, were killed by the police.
He said the judicial commission in its report had declared Shahbaz Sharif culprit of the Model Town tragedy.
He said oppression and injustice have become a norm in this country.
He recalled that unarmed and innocent people who were asleep were targeted by police in the Model Town.
Holding a constitution in his hand, Dr Qadri said even children were deprived of necessary basic education in the country.
He said the constitution did not allow anyone to be deprived of their basis rights. "Rulers should take my life, but give these poor their due rights," he added.
Dr. Qadri claimed that government was continuously violating the constitution.
Source: http://arynews.tv/