Rulers responsible for floods' havoc in the country: Dr Tahir-ul-Qadri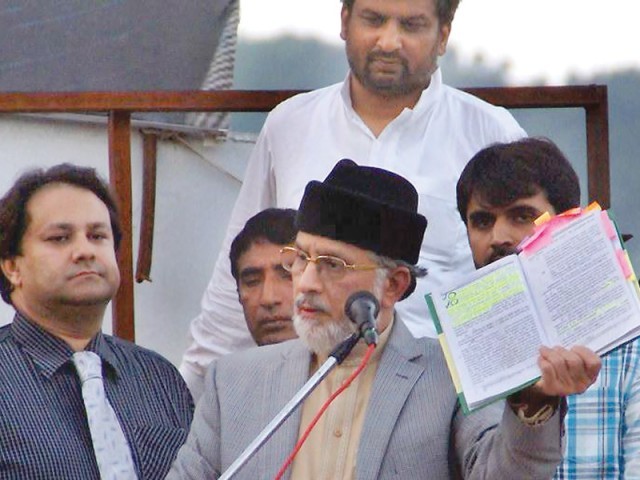 PAT leader Dr Muhammad Tahir-ul-Qadri has criticized the mode of electing women legislators and those from minority communities. He said that 70 positions were specified for women and minorities in the National Assembly whose 'election' to the lower house is dependent on the whims and caprices of the heads of political parties. He said that monopoly of political leaders in selection of women and minority MPs is in violation of Article 226 of the Constitution, adding that those who were 'elected' in this manner hold their positions illegally. He said that Article 226 prescribed secret ballot as a means to elect members of legislators but the same procedure was not followed in letter and spirit in case of women and minority MPs.
Dr Tahir-ul-Qadri stated this while addressing the participants of revolution march in front of Parliament House on September 09 here in Islamabad. He said that it is due to non-representative nature of women and minority legislators that they are unable to resolve the issues of their communities. He said that non-Muslim minorities are our brothers and sisters who have equal rights in the country. He said that Islam also regards them as equal citizens of an Islamic state with their fundamental rights fully protected under the Islamic law.
Expressing his deep sense of grief and sorrow on loss of precious lives and damage to properties of people as a result of the flooding currently sweeping across Punjab and Azad Jammu and Kashmir, Dr Tahir-ul-Qadri said that it is old practice of the government that it commits crime first, then sets up commission to investigate it and finally does not allow to make its report public. He said that the ruling clique is responsible for the country's comprehensive downfall in every walk of life. He said that it is by reining them in that we can get salvation.
Dr Qadri revealed that in the wake of most devastating floods in 2010, the Flood Commission held three officers responsible and declared the Chief Minister's visits as administratively counterproductive. He said that this round time too, there was no preparation whatsoever to deal with present flood situation because people's welfare is not priority of the government. He said that after floods of 2010, the Government allocated billions of rupees to cater to next flood and the money was wasted in corruption and no course of action was adopted to deal with floods in future. He said that the rulers are more interested in political activities and personal publicity instead being bothered about loss of people's lives and properties. He said that the ministers and powerful local politicians make people suffer in hundred of districts to save their lands and factories.
Dr Tahir-ul-Qadri stated that if the present rulers continue to hold on to power, flooding as well as natural calamities will continue to occur and no effective strategy will be in place to deal with them. He made it clear that if the present rulers keep on staying in power, dynastic politics will rule the roost, adding that the very existence of the country and survival of the nation will continue to remain threatened. He said that the rulers pretend to share people's grief but no one gets justice and at last people are forced to commit suicides.