Quaid-e-Azam's ideals put on the backburner: Dr Tahir-ul-Qadri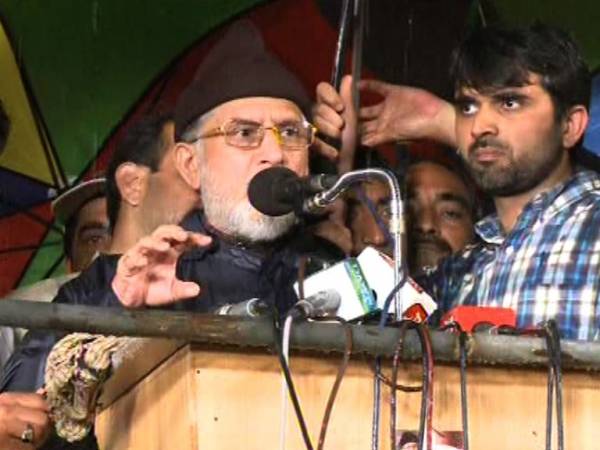 PAT chief Dr Muhammad Tahir-ul-Qadri has said that we want such a system of politics and elections in the country in which political parties do not have sole monopoly on the fate of masses and electorate are free to express their opinion. He said that as long as people will not be independent economically with an ability to make free choices, their right of vote will remain compromised.
Dr Tahir-ul-Qadri made these remarks while addressing the participants of revolution march in front of Parliament House on September 11. He said that the Quaid-e-Azam, Pakistan's founding father, said that Islam is not merely a set of rituals, customs and beliefs. Rather, it is also based on lofty principles in politics and economics. He said that the Quaid described Islam as a comprehensive code of life. He said that a country where people crave for food two times a day cannot be Pakistan of the Quaid-e-Azam.
Dr Qadri said that the visit of the Chinese President was cancelled because rulers did not want to show real face of Pakistan to him. He said that the entire system of the country is based on violation of the Constitution. He said that time is not far when corrupt rulers will be held accountable for their acts of commission and omission.
Dr Qadri said that the flood of revolution march will move forward like French revolution and sweep the corrupt away. He said that national institutions need to be made independent. He further said that people have forced the rulers to come to Parliament, adding such a big sit-in was never witnessed in Pakistan's 65-year old history.
He said that rulers have snatched rights of the people. He said that Constitution says that every person will live a dignified life in society but the reality was contrary to this pledge. He said that rebellion against present system is necessary because it is based contravention of the Constitution & sayings of the Quaid-e-Azam. He said that power to make decisions has been snatched from people and given to moneyed political leaders.
Allah Almighty did not confer right to power on rulers directly. Rather He made people real repository of this power.
Dr Qadri said that all Islamic teachings are as much relevant & practicable today as they were 1300 years ago. He said that the Quaid-e-Azam, while addressing Karachi Bar Association, said that Islam gives humanity legal & economic independence. He said that Pakistan's founding father held that Islam does not allow discrimination among people. Rather, it preaches equality among them. He said that the powerful ruling elite, in their lust for power, have put the Quaid's ideals at the backburner. He further disclosed that police tortured his workers in Fawara chowk and robbed them of 70 thousand rupees.