Parliament is house of corrupt, says Dr Qadri
PAT chief says people have stood up to take constitutional rights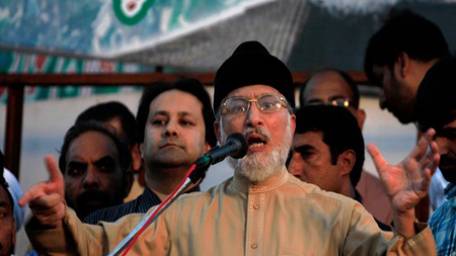 ISLAMABAD: Pakistan Awami Tehreek (PAT) chief Dr Tahirul Qadri on Saturday said parliament was a mere union of tax evaders, loan defaulters and fake degree holders who have become members through unfair means.
"You will find tax evaders, loan defaulters, fake degrees holder and multiple criminals sitting in parliament," Qadri told his sit-in crowd, adding, "Business of corruption and looting was being done in the parliament from dawn to dusk."
He said democracy in Pakistan was to protect corruption of each other (politicians), adding, "State will not survive if incumbent regime remains in power as a conspiracy is being hatched against the existence of the country."
He alleged that a group of opportunists had been taking turns for the last 30 years. However, the people have stood up now to take their constitutional rights, the PAT chief said.
The scholar said parliament should see that the protesters represented the 180 million people of Pakistan. He said these people plough fields and give their blood and sweat for the country in time of need. He said he had educated them to get their rights. "They know their rights now. They know that Parliament is an alliance of corruption. Their alliance is of power, corruption and business," he added.
Dr Qadri said, "Listen to me carefully! Imran Khan and I do not fear arrest. If you come here to arrest us, your rule will end within 24 hours."
Qadri said Interior Minister Chaudhry Nisar thanked media for capturing the images of people who attacked PTV building.
"I wish Nisar also got the images of people verified from NADRA who were involved in Model Town incident.
"Nisar got PTV attackers verified, why didn't he get Model Town incident culprits verified," Qadri said.
Terming the Election Commission of Pakistan (ECP) as 'Corruption Commission of Pakistan, the scholar criticised the ECP role in general election 2013. The PAT chief said that the ECP tore apart Article 62 and 63 of the constitution. "You will find doctors and engineers having fake degrees sitting in parliament," said Qadri.
He slammed the PML-N-led government and said their government would soon be overthrown by the 'sea of people' gathered in Islamabad.
Qadri said, "Parliament is unconstitutional, illegal, undemocratic and immoral as general elections 2013 were held under an unconstitutional election commission."
He said, "The constitution is not enforced and we have come to 'revive' it."
Source: http://www.dailytimes.com.pk/national/14-Sep-2014/parliament-is-house-of-corrupt-says-dr-qadri
Source : http://www.dailytimes.com.pk/national/14-Sep-2014/parliament-is-house-of-corrupt-says-dr-qadri