Rulers united in parliament to protect their wrongdoings, says Dr. Qadri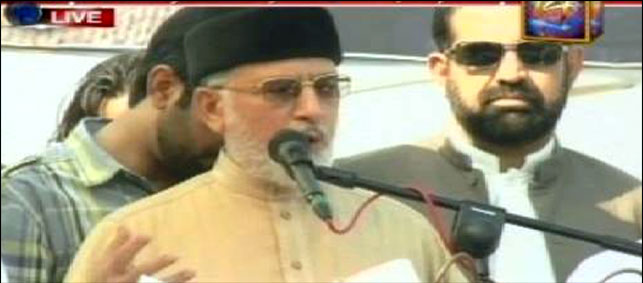 ISLAMABAD: Pakistan Awami Tehreek (PAT) chief Dr. Tahirul Qadri has said the incumbent rulers were making the future of nation 'bleak' through endless corruption, ARY News reported Tuesday.
Revolution has now become a movement across the country, said Dr. Qadri while addressing his supporters at a sit-in camp at D-Chowk in Islamabad.
"All the 'corrupt leaders' unite in the parliament to protect their wrongdoings," he added. A system which rulers call democracy is actual a 'looting practice', he lamented.
Lashing out at the Prime Minister Nawaz Sharif, he said the national wealth plundered by PM Sharif in 1990s was more than Rs 10 billion.
He said the 'so-called' prime minister could not dare to meet the flood-affected people during his recent visits, fearing a backlash from victims.
He asked his supporters to keep chanting 'Go Nawaz Go' in response to each anti-people steps taken by the government such as raise in electricity bills, etc.
Dr. Qadri said the rulers do business through capital of nation and banks, pushing the poor towards more poverty.
Source: arynews.tv