Dr. Qadri questions PM's incumbency after murder case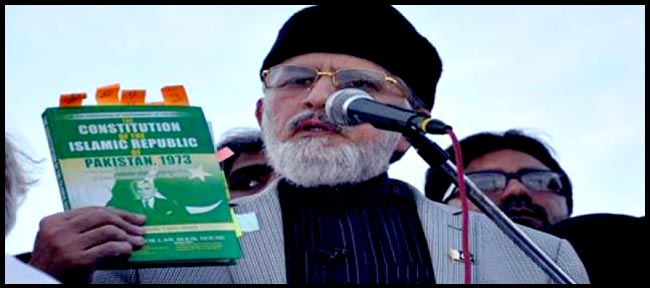 ISLAMABAD: Pakistan Awami Tehreek chief Dr. Tahirul Qadri chief has demanded immediate arrest of prime minister and others who are nominated in the FIR for murder charges, ARY News reported.
How a person can remain a prime minister if a case is registered against him for murder, he asked in address to his supporters at D-Chowk in Islamabad today.
He said there is no impunity for PM and chief minister Punjab Shahbaz Sharif under the constitution to evade legal inquiry and action.
He demanded that Prime Minister Nawaz Sharif and Chief Minister Shahbaz Sharif, federal ministers and former IGs should immediately be arrested who are nominated in the FIR.
The case was registered on Tuesday night at Secretariat Police Station in Islamabad after a district & sessions judge ordered framing of murder charges against the PM and others over the killing of protesters. Those nominated in the case are CM Punjab Shahbaz Sharif Interior Minister Chaudhary Nisar Ali Khan, Defence Minister Khwaja Asif and Railways Minister Khwaja Saad Rafique.
A case was registered under section 302 of Pakistan Penal Code (intentional murder) while Section 7 of the Anti-Terrorism Act was also included later in the case.
Source: www.arynews.tv
Source : http://arynews.tv/en/dr-qadri-questions-pms-incumbency-after-murder-case/