Daily Times: Current regime about to end: Qadri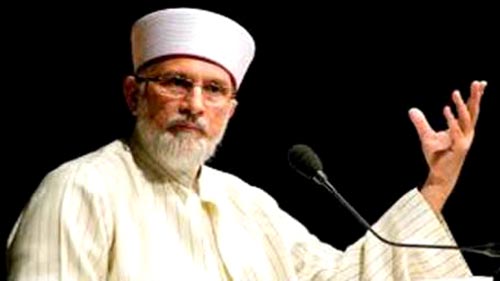 ISLAMABAD: Pakistan Awami Tehreek (PAT) Dr Tahirul Qadri on Sunday reiterated that the sitting regime is about to end soon as a system based on injustice and brutality is destined to die.
Addressing to party workers at sit-in at Constitutional Avenue, Dr Qadri dubbed the rulers the most cruel by unleashing the reign of terror on the people of the country. "They are bound to meet their fate soon and it will you that will lead them to perish", Qadri asked his supporters. Lambasting the present rulers in center and Punjab, the firebrand Qadri rejected the present democratic system saying it is actually monarchy of a family which is calling the shots.
"We want to bring the real democracy that would be like the one in the development world" he said by referring to USA where eight governors of various states were shown the door on the allegation of corruption. Here, he pointed out innocent people were killed ruthlessly and no one showed the moral character to resign despite the fact that judicial commission formed to probe into Lahore Model Town incident pointed fingers at the sitting rulers of Punjab.
Dr Qadri termed the current democracy in the country even inferior to Africa nations where leaders have also courage and moral character to accept their responsibilities. He pointed out that present rulers got 143 cases withdrawn which were in NAB after coming to power last year. Qadri claimed that his party's agenda is to lead the country towards transparency whereas sitting rulers are spending their energies to strength rules through monarch like conduct, which he vowed to oppose at all cost.
PAT Chief noted that there is huge difference in his and ruling party's concepts about democracy. "We have come here to teach them what is the real democracy", he added. The parliament, he said is turned into a graveyard where constitution, democracy and rule of law have been buried. He even called the government a family fiefdom of present ruling family where only nears and dears are allowed to get in. "The competent and honest people have no place to get a place in the government because ruling family only needs incompetent ones to say "yes" to every order", he believed.
PAT Chief dubbed the rulers incompetent and accused them of slaughtering the nation and country through their destructive policies. Qadri also accused the present government for destruction of agriculture sector in the country that was once so much developed that Pakistan was ranked 8th biggest wheat exporting country. Today, he added Pakistan is importing the wheat and that too is conducted through offshore companies that ruling elites have setup abroad to mint the money on purchase and then its export to Pakistan.
Source: www.dailytimes.com.pk