Tribune News: Qadri calls Parliament a 'graveyard of constitution'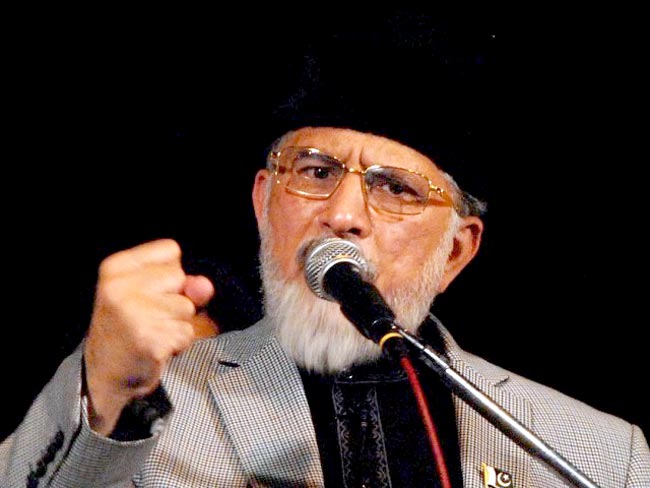 The PAT chief devoted much of his speech to allegations of corruption against Prime Minister Nawaz Sharif, claiming that he had influenced National Accountability Bureau (NAB) to close 143 cases of corruption against him
ISLAMABAD: Hours after Pakistan Tehreek-e-Insaaf (PTI) reiterated its resolve to continue its sit-in till ouster of Prime Minister Nawaz Sharif in Karachi, the Pakistan Awami Tehreek (PAT) chief hit hard at rulers saying their Parliament was a 'graveyard of constitution'.
"You claim that revolution will come through Parliament, but let me inform you that this parliament is not yours. This parliament is a graveyard of the constitution, morality and democratic culture," said PAT chief Dr Tahirul Qadri.
In his routine speech to the participants of the Inqlab March camped in front of the Parliament House, Qadri censured the ruling elite of the country and their policies, and asserted his struggle was for achieving the "real democratic culture".
The PAT chief devoted much of his speech to allegations of corruption against Prime Minister Nawaz Sharif, claiming that he had influenced National Accountability Bureau (NAB) to close 143 cases of corruption against him.
He said that the PM should be held accountable for his cases, and cited the example of Nigeria where governors of two states were impeached due to corruption charges this year.
The NAB, however, refuted the allegations later, saying "…till date not even a single case against the Prime Minister and his family members has been closed."
Referring to Punjab Chief Minister Shahbaz Sharif, he said that the CM is supervising as many as 10 ministries while another minister was in charge of seven ministries. "This cannot be termed democratic culture as rulers only need yes-men who could blindly obey their orders," he added.
Qadri quoted the Watergate scandal in the US, and how it led to then President Richard Nixon's impeachment. "Nixon had stepped down himself and this is called democratic approach," he said, adding that eight governors in the US had resigned on allegations of misuse of authority.
"There is allegation of killing 17 people but you are not ready to step down," he said of the Punjab CM. "On the other hand US governors had resigned merely after allegations of corruption surfaced."
The PAT leader mentioned some statistics of the country's past performance, claiming that Pakistan was once at number eight in agriculture but because of corruption the country is now importing wheat. The farmers, he claimed, are backbone of the country but they have been complaining of uneven water distribution but the rulers could not solve the issue.
"The only thing right now at its peak in Pakistan is corruption, inefficiency and dictatorship," he added.
Qadri also congratulated PTI chief Imran Khan for holding a successful rally in Karachi.
Source: www.tribune.com.pk
Source : http://tribune.com.pk/story/765543/qadri-calls-parliament-a-graveyard-of-constitution/