Report on Elections 2013 an indictment of Election Commission: Dr Tahir-ul-Qadri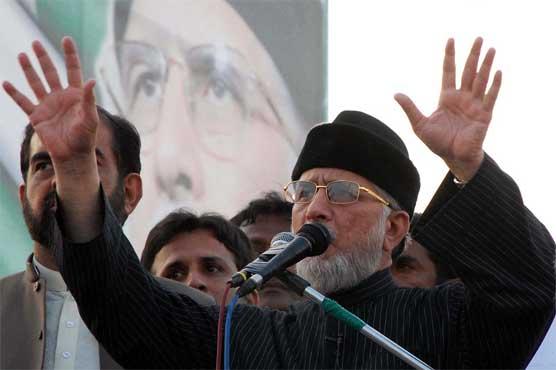 PAT chief Dr Muhammad Tahir-ul-Qadri has said that the slogan of 'Go Nawaz Go' has become a voice of everyone's heart and a national message of all and sundry. He said that slogans of 'Go Nawaz Go' were raised in NA-120, which is constituency of Nawaz Sharif. He said that the Prime Minister is going to be received amid chants of these slogans in New York as well.
Dr Tahir-ul-Qadri expressed these views while addressing the participants of revolution march in front of Parliament House on September 22, 2014. He said that no such movement was ever waged in 65-year old history of Pakistan, which changed people's hearts and minds. He said that people have been so destroyed economically that courage to dare predatory elite & hope to change future has been snatched from them. He said that some powerful families have got it entrenched in minds of masses that no educated, competent and poor people can get into power. He said that revolution comes in thoughts and mindsets first, adding that when lamps of hope begin to get lighted, revolution gets underway.
PAT leader said that our intellectual revolution has gained victory. He said that now we have to turn this revolutionary wave into a storm. He said that Election Commission published a report in the dead of night and confessed that irregularities were conducted at a massive scale in elections. He said that it has been proven from the contents of report that present elections were held in a glaring contravention of Articles 213 & 218. He said that present Parliament came into being as a result of violation of Constitution, further stating that this Assembly is unconstitutional, illegal & immoral.
Dr Tahir-ul-Qadri said that we will establish medical centres, education centres and sports centres throughout the country after revolution. He said that India, Nigeria, and Uganda have been spending 4%, 6% & 8% of their GDPs on education respectively, whereas Pakistan spends 1% of its GDP on education.
In an interview with SAMA news anchor Ali Mumtaz, Dr Muhammad Tahir-ul-Qadri said that some things happen just by coincidence, which are of no value otherwise but politicians interpret them in their own way to portray a twisted picture. He said that sources of Javed Hashmi give him wrong information. Establishment or Ch. Sarwar had no role in our meeting.
Dr Qadri said that 40 Articles of Constitution regarding rights of people are already suspended, adding that it makes no difference to Election Commission if it violates two more Articles. He said that when scrutiny cell could not work properly, fair, free and transparent elections could not be held. Election Commission is a national culprit in this whole process. He said that when elections were held unconstitutionally, the Parliament that came into being as a consequence can be described as unconstitutional. He said that it was part of ECP's responsibilities to have taken necessary constitutional and administrative steps for conduct of fair and free polls.
Highlighting failings of Election Commission, Dr Qadri said that it was responsibility of ECP to have presided over fair, free, transparent & corruption-free elections with complete honesty, neutrality, justice and in accordance with law. He said that in case of non-cooperation from relevant institutions, it was responsibility of ECP to have apprised the nation about it through media. He said that according to clause 3 of Article 218, it was responsibility of ECP to conduct fair and free elections, which was not done. He said that the lack of cooperation and coordination among four key national institutions during elections 2013 shows that Caretakers were powerless.
PAT leader said that Nawaz Sharif got NAB directors to give favourable decisions in 143 cases in last one and half years. He said that NAB did not cooperate with Election Commission because corruption cases of politicians were pending before it. He said that we boycotted Elections 2013 because they were going to be held in flagrant violation of the Constitution. He said that the report of Elections 2013 said that FBR and State Bank of Pakistan did not supply information of tax evaders & loan defaulters.
He said that it has been admitted in report of Election 2013 that Articles 62, 63 were openly violated, adding that candidates were cleared to contest polls without conducting their due scrutiny under the law. He said that the report of Elections 2013 was ready by December 2013 but was not published. This delay is a criminal act which should be held accountable, he concluded.