Samaa News: Qadri wants to give Nawaz a 'shot of shame'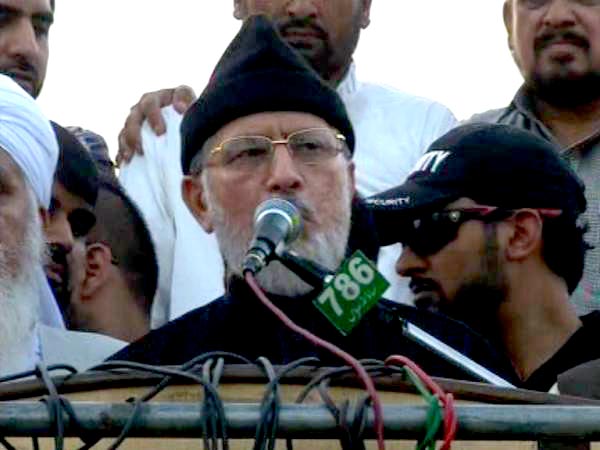 ISLAMABAD: Populist cleric Dr Tahirul Qadri says the night of tyranny is bound to end as no one can stop the sun of of revolution from rising, Samaa reported.
"The revolution is inevitable. It's only a matter of time. The days of Nawaz Sharif's monarchy are numbered", the Pakistan Awami Tehreek (PAT) leader said addressing his revolutionary protestors sitting in outside Parliament House.
Dr Tahir-ul-Qadri has gathered thousands of supporters in Islamabad since August 14 calling on Prime Minister Nawaz Sharif to resign over what he claims was massive rigging of the 2013 election and also for the deaths of his above dozen followers, who were shot dead in a police crackdown in Lahore allegedly on the orders of Chief Minister Punjab Shahbaz Sharif.
A sarcastic Qadri taking a jab at the incumbent rulers said had 'pills and shots' of shame been available in the market he would have had them administered to Prime Minister Nawaz Sharif and his cronies.
Defending former president of Pakistan Gen (Retd) Pervez Musharraf, Qadri said, "Had Nawaz taken the then sitting chief of the army staff for a bread maker?"
"Why is Musharraf being trialed for imposing emergency and not martial law? If he had been charged for the latter then the series of events that led him to take that action would have been become the talk of the town. Tell me, which one is a bigger crime? Emergency or martial law", said the reformist cleric.
He was of the view that pressing 'emergency' charges instead of martial law per se invokes Article 6 of the constitution.
"The rulers should be tried under Article 6 for not charging Musharraf with coup d'état", the firebrand cleric said.
Source: www.samaa.tv
Source : http://www.samaa.tv/pakistan/23-Sep-2014/qadris-says-sun-of-revolution-bound-to-rise