ARY News: Dr. Qadri asks people to receive PM with 'Go Nawaz Go' slogan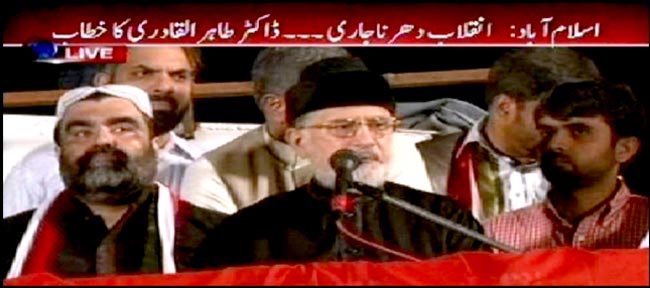 ISLAMABAD: Pakistan Awami Tehreek chief Dr. Tahirul Qadri on Tuesday called upon people worldwide to receive and refer the Prime Minister Nawaz Sharif with 'Go Nawaz Go' slogan to show their disapproval against him, ARY News reported.
He again slammed Mr. Sharif, saying the PM was proceeding to attend the United Nations General Assembly session after trampling upon rights of his own people back home.
Addressing his supporters at a sit-in, continuing for over 40 days at D-Chowk Islamabad, Dr. Qadri said the destiny of the nation would soon change.
He asserted that people would change their fate with revolution. The PAT chief asked people to camp outside UN secretariat to protest against PM Nawaz Sharif.
He said the federal government had announced lifting ban on government jobs, castigating that vocations would only be given to close relatives of MNAs and parliamentarians.
He lamented the government for announcing Rs 25,000 for each flood-hit family, terming it too meagre.
Dr. Qadri insisted upon masses to snatch their right, saying the rulers would never grant people their due rights. He deplored that 60 villages in Okara had no electricity for last 10 days.
Source: www.arynews.tv
Source : http://arynews.tv/en/dr-qadri-asks-people-to-refer-pm-with-go-nawaz-go-slogan/