Daily Times: Qadri to turn revolution march into storm in two to three days
* PTI chief calls upon workers to take 'mission' to its logical end
* 'Intellectual revolution' has already taken place in country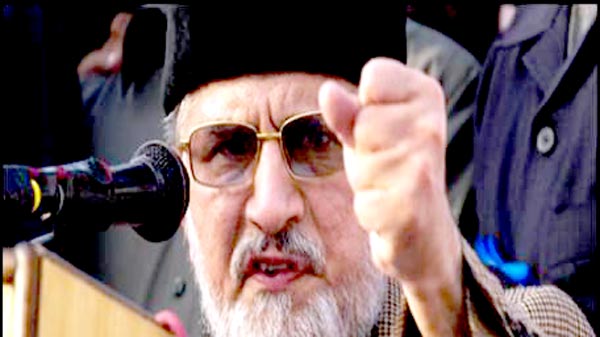 ISLAMABAD: Pakistan Awami Tehreek (PAT) Chief Dr Tahirul Qadri on Monday announced turning the wave of revolution into a storm within next two or three days and called upon workers to take the "mission" to its logical end, claiming that "intellectual revolution" has already taken place in the country.
"A strategy to turn this wave of revolution into a storm will be devised within next two or three days and revolution will soon be turned into a storm," emotional PAT chief said. "Revolution has given voice to the deaf and dumb, while dictators depressed the masses," Qadri told his diehard workers and devotees during his routine speech on the 39th day of protest sit-in on the Constitution Avenue in heart of the federal capital.
Dr Qadri said that when nations accept defeat and become disappointed, they cannot rise. "They accept that they will never control their fate and can never get their rights," Qadri said, adding that the revolution has entered its final stages and that it has already been won.
He said that the slogan of "go Nwaz go" had become a national message and that the entire country has now been echoing with it. "This is the first time that such a movement is being held in this country," Qadri claimed.
"Even internally displaced persons have staged protests against the government for its alleged malpractices," Qadri said. He deplored that only 1 percent of the gross domestic product was being spent on health sector, thus making lives of people miserable. He regretted that the state and the government could not fulfil their prime duty to protect the masses and ensure their rights.
Referring to a report of the Election Commission of Pakistan (ECP) pertaining to the 2013 elections, the PAT chief said that the 2013 general elections were unconstitutional and illegal as entire process of election was not transparent, fair and just. He lamented that the ECP kept the report in hiding for nine months, which had now been made public while admitting irregularities in the election.
Source: www.dailytimes.com.pk
Source : http://www.dailytimes.com.pk/national/23-Sep-2014/qadri-to-turn-revolution-march-into-storm-in-two-to-three-days