Daily Times: Qadri tells overseas supporters to welcome PM with 'Go Nawaz Go' chant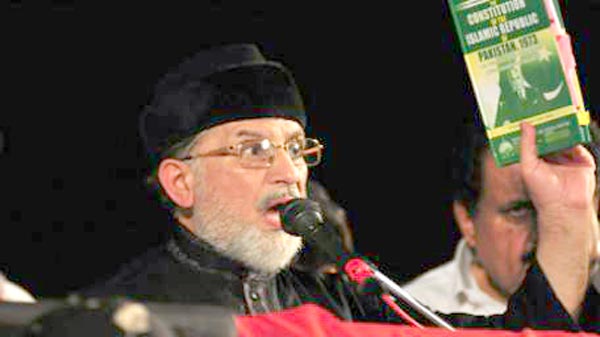 ISLAMABAD: Pakistan Awami Tehreek (PAT) Chief Dr Tahirul Qadri on Tuesday called upon overseas Pakistanis to encamp outside United Nations Headquarters to protest against Prime Minister Nawaz Sharif during his ongoing visit to New York.
"Receive and welcome Prime Minister Nawaz Sharif with 'Go Nawaz Go' slogan to show disapproval against him," Qadri said. He also called upon people to encamp outside the UN Headquarters to protest against Premier Sharif, saying he has lost every right to rule this country.
"The PM is proceeding to attend the United Nations General Assembly session after trampling upon rights of his own people," fiery anti-government Canadian cleric said while delivering a routine speech to his diehard workers protesting on the Constitution Avenue in the heart of federal capital.
Insisting the masses to stand firm against snatching of their rights, the PAT chief said rulers would never grant people their due rights. "The people will have to rise up against the rulers to get their rights," he said and once again vowed for bringing about a revolution to put the country on track. He said no power in world could hurdle in the way to revolution. "Revolution has become a fate of the people of Pakistan," he said and insisted diehard devotees/workers to stay committed till the accomplishment of bigger cause. The PAT chief urged the common run of men to struggle for their basic rights.
Criticising the incumbent regime for mishandling the situation after disastrous floods that submerged parts of Punjab and Sindh, he lamented that the government announced a meager Rs25,000 financial assistance package for each flood-hit family despite the fact that victims have lost their entire properties worth millions of rupees.
Following a decision made by federal cabinet on Monday, which calls for lifting ban on recruitments by the government, the PAT chief alleged that the decision was only made to recruit people on political grounds. He also castigated the government by saying that jobs would only be given to close relatives of parliamentarians.
Source: www.dailytimes.com.pk
Source : http://www.dailytimes.com.pk/national/24-Sep-2014/qadri-tells-overseas-supporters-to-welcome-pm-with-go-nawaz-go-chant