Nawaz dying to shake hands with Obama: Qadri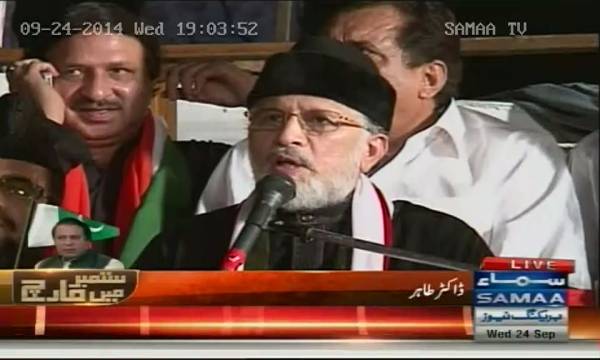 ISLAMABAD: Dr Tahirul Qadri Wednesday night alleged that Prime Minister Mian Nawaz Sharif, who is on a private visit to US these days, had chosen to check in one of the most expensive hotels in New York in the stead of a Pakistani hotel only to get a chance to shake hands with US president Barack Obama also staying the same luxury hotel, Samaa reported.
"A constitutionally as well as democratically weak head of state always draws strength from a handshake with a powerful leader of a superpower", said Qadri while addressing his followers protesting outside legislative assembly building in Islamabad.
Qadri said that 'Waldorf Astoria New York', the seven star hotel PM Nawaz was about to sign in, charged about Rs800,000/day for a smallest room.
"Nawaz very well knows he will never be invited over for even an informal meeting with Obama, but he might get lucky and stumble across him in the elevator, extend his hand for a handshake, and eventually succeed in getting one", said he mocking at the slavish nature of the Pakistani premier.