PAT sit-in has gone global: Dr Tahir-ul-Qadri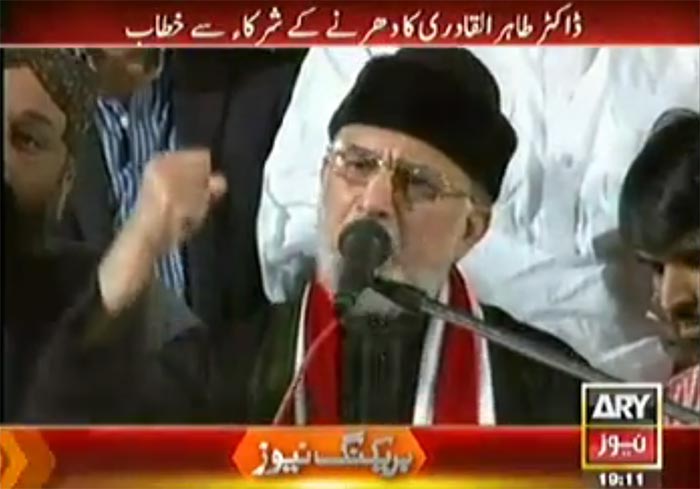 Dr Muhammad Tahir-ul-Qadri, the chief of Pakistan Awami Tehreek, today extended a very warm welcome to new participants of revolution march who came with high hopes of a better tomorrow despite lack of provision of justice in society. He said that constitution and national institutions have become hostage in the hands of rulers, adding that we want to free them from their clutches.
Dr Tahir-ul-Qadri made these remarks while addressing participants of revolution march on September 25 in front of Parliament House. He said that there is an uproar & furor over rigging throughout the country. He said that this is what he had predicted in Long March in January 2013 and time proved him right. He said that had his petition challenging constitution of the Election Commission of Pakistan been heard properly in 2013, the nation would have been spared the scourge of rigging today.
Rebutting allegations of foreign support, Dr Tahir-ul-Qadri asked as to why do those accusing revolution march of having support of foreign agencies not call ambassadors of those countries for answers? He said that if the government has any honour and truth in its stance, it should call ambassadors of those countries it suspects of backing revolution march. He said that no mother in this government gave birth to a child who could reject his stance. He dared the ministers to come out with their propaganda and talk openly instead of resorting to rumouring mongering. He said that if parties having 2/3rd majority have courage, they should enact a law to prescribe capital punishment for those disturbing law & order.
Dr Qadri, while referring to some notable incidents, said that did CIA or MI6 ask to plan and cause bloodshed on June 17 by killing 14 people with live bullets? He said did CIA and MI6 order diversion of my flight and laying a siege around Model Town on Martyrs Day? Did CIA and MI6 plan blocking of whole of Punjab by placing containers across the province? He said that what to speak of humans, even if cats and dogs are killed in democratic countries, there is a punishment for it. He asked why do those championing cause of democracy not hold rulers by their collars? Were those who got killed not humans? He said that many of so-called clerics invoke Islam but why do they not demand Qisas of martyrs' blood according to Islamic teachings? He asked had people been killed in Balochistan in this manner, would Achakzai have kept mum? He would have picked up guns.
Dr Tahir-ul-Qadri, while throwing light on services and contributions of his party in the realm of welfare, said that our past is a witness that we always helped flood affectees, and stood by quake- and calamities-hit people more than PML-N. He said that keeping national resources aside, Sharif brothers should reply as to how much did they spend on flood victims out of their own pockets and party? He made it clear that there is no One Man show in our party, adding that his organization is a leading movement of Islamic world, which is spread in 90 countries. He said that we cancelled annual Itikaf in 2010 and spent the whole budget on the well-being of flood affectees.
Dr Tahir-ul-Qadri emphatically stated that his party does not get any support from any NGO including UNO but still it remains unbeaten from East to West in terms of its services to suffering humanity. He said that Minhaj Welfare Foundation dispatched relief goods to Africa, Gaza, Indonesia and Iran, adding that we have been doing this work for many years. He said that arrangements for collective sacrifice of animals have been made in Africa for this year in view of food requirements of poor countries of the continent.
PAT chief elaborated on contributions of his movement in religious and spiritual fields and said that our movement has enlightened generations of Pakistanis with right kind of training & put them on the straight path. He said that Nelson Mandela once said that poverty would not end with charity but justice, adding that rulers have made the whole nation beggar by doling out some money. He said that poverty will only end if people get economic and social rights & protection for their lives, honour and properties. He said that the promise of aid made by rulers for flood victims and IDPs has not materialized. That is why even they are chanting slogan of 'Go Nawaz Go'.
Dr Qadri said that our sit-in is not limited to Islamabad alone. Rather those chanting slogans of 'Go Nawaz Go' in whole world are also part of this sit-in. He said that the slogans of 'Go Nawaz Go' were raised in hockey stadium as a mark of celebration of Pakistan's victory over India. He said that people raised slogans of 'Go Nawaz Go' in a music programme of Arif Lohar in Barcelona, Spain. He asked why the PM entered his house in London from a back door, adding that it was so because sit-in has expanded to other countries in addition to Pakistan. He said that if this sit-in consists of a few thousand people, then why did PM refuse to meet Pakistani community in New York & over what fear?
Dr Tahir-ul-Qadri said that telling a lie is second nature of Nawaz Sharif. He promised to give voting rights to oversees Pakistanis during his last visit to NYC which was not fulfilled. He said that rulers, who are afraid of revolution march, must be hearing slogans of 'Go Nawaz Go' even in their dreams. He said that if people are shot at and roads blocked by placement of containers on Election Day, mandate of millions of people will be exposed. He threw in a challenge saying that claimants of public mandate should select a city. They should walk through the city and so would he and it will be known soon as to who carries national mandate with him. He said that 27 schools of Islamabad were occupied by Police. Children attended Revolution March School for one day. Government opened all schools out of fear.
Taking a strong exception to baseless propaganda on TV channels today, Dr Qadri said that he met his workers out of his own will, adding that he placed tissue on his mouth due to chest infection. He said that those linking it to VIP culture should hang their heads in shame. He asked why those conscience selling, Gullu Butt journalists, who thrive on money of their masters, forget their VIP culture.