ARY News: Punjab Govt spent Rs 530 bn on law and order, achieved nothing: Qadri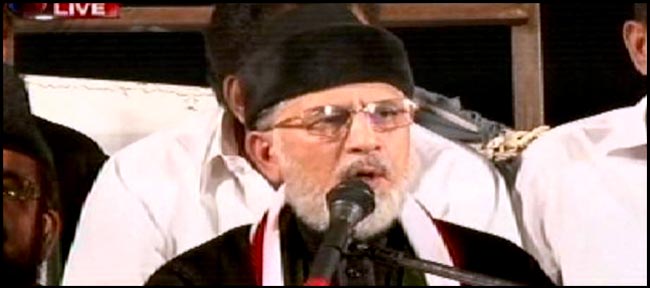 ISLAMABAD: PAT chief, Dr Tahirul Qadri has said that the Punjab Government spent Rs 530 billion during past seven years only to maintain law and order in the province, but still the crime rate was increased by 110 percent over there, ARY News reported.
Addressing the participants of the Inqilab March on Saturday, Dr Tahirul Qadri asked them to submit their records and said that their efforts and sacrifices for a revolution will always be remembered.
He said, "Whenever I will travel or my family, we will stay only at the homes of the participants of the Inqilab March and directed his party leaders not make arrangements for his stay elsewhere".
Qadri also asked the PAT officials to take care of these people and warned of throwing all those out of his movement, who were found negligent to these participants of the Inqilab March.
He added that most of the goals of the Inqilab March have been achieved and today a revolution has become the voice of every heart, other than only a few privileged families.
The PAT chief felicitated the participants for awakening the entire Pakistani nation. He added, "A revolution has taken place and its credit goes to the participants of this sit-in".
He said that the article-9 of the Constitution of Pakistan guarantees every citizen of the safety of his life, property, honor and possession, but the PMLN only allocates budget for maintaining law and order and ensures nothing like this to anyone.
Tahirul Qadri elaborated that the Punjab Government spent 530 billion on law and order during past seven years, yet the crime rate in the province was increased by 110 percent despite of such an enormous amount spent.
He said that these are the reasons due to which the people stood up seeking a revolution in the state.
Source: www.arynews.tv
Source : http://arynews.tv/en/punjab-govt-spent-rs-530-bn-on-law-and-order-achieved-nothing-qadri/