Daily Times: Qadri castigates rulers for pushing masses under 'pile' of debt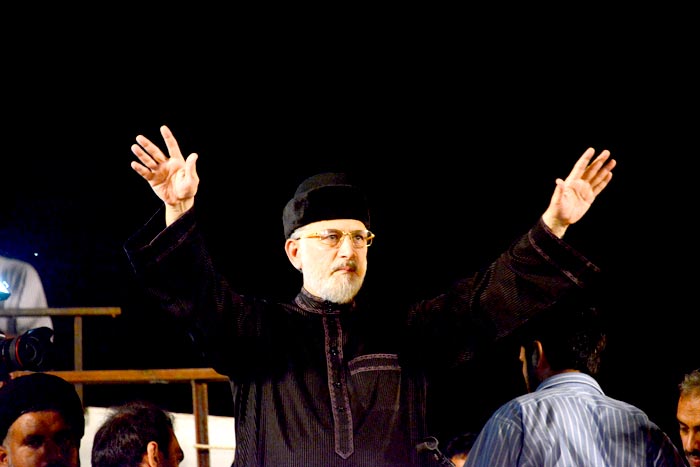 ISLAMABAD: Pakistan Awami Tehreek Chief Dr Tahirul Qadri on Monday castigated rulers for pushing masses under a pile of debt, saying they are carrying begging bowl in contrary to their pledges to do away with practice of seeking loan when taking to power.
Addressing participants of sit-in on Constitution Avenue, the PAT chief said people's struggle against the government would soon become a success story. He said that the centre and provinces were dependent on heavy debt, as Punjab was facing a debt of Rs 452 billion accumulated in the last seven years. "This province has never been in debt in its entire history," Qadri said.
Dr Qadri said when business and power get together, nation faces destruction as a result. He deplored that 40 percent schools of Punjab Province were without basic facilities. "Slavery is prevailing as no democracy here and we want to end it," the PAT chief said.
Criticising the rulers for carrying begging bowl in contrary to their pledges, a fiery anti-government Canadian cleric claimed the entire national wealth was being spent on private businesses of rulers or on corruption. He accused the Sharif family of running all sorts of businesses, including poultry, across Punjab and trampling upon rights of poor traders, who were now backing out of their business due to frequent losses as the Sharif family was ruling all over. "In democracy, underprivileged segments can question the privileged but in Pakistan, no such democratic practice prevails," Qadri lamented, adding," We want end to this autocratic rule and system."
Qadri also told his diehard workers that the PML-N has been collecting evidence about his property in the United Kingdom. He made it clear that they would find nothing on his part, as so far they could not collect single proof of it.
Source: www.dailytimes.com.pk
Source : http://www.dailytimes.com.pk/national/30-Sep-2014/qadri-castigates-rulers-for-pushing-masses-under-pile-of-debt