Daily Times: Dr Qadri calls parliament an 'anti-public' entity
* Says no change through existing set-up expected till doomsday
* Flays Punjab govt for failure to control crime with Rs 530 billion in six years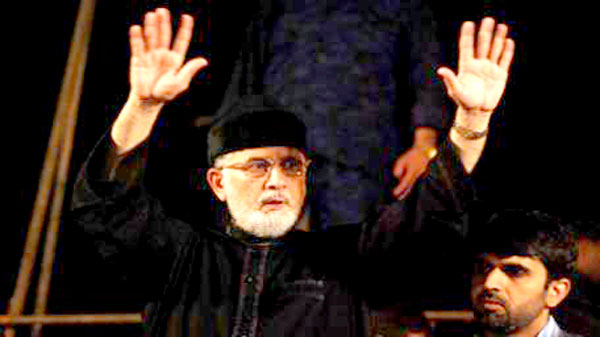 ISLAMABAD: Pakistan Awami Tehreek (PAT) Chief Dr Tahirul Qadri on Saturday alleged that the parliament is an "anti-public" entity and that no change through existing democratic set-up is expected even till the Day of Judgment.
"The present parliament is anti-poor; anti-constitution and anti-democracy, so no change in the fate of masses or country [is in sight] till the Day of Judgment," he said, adding that this parliament would have to be replaced. He said that a common man could not become member of the parliament as only family members of parliamentarians become its members.
Addressing his diehard workers on the Constitution Avenue, PAT chief said that the rulers have so far done nothing for the masses. They have given destructions, devastations, killings and fear to the country, while ordinary people would find nothing until they remain in power, Qadri added.
Criticising the Punjab government over its failure to maintain the law and order despite spending Rs 530 billion in the past seven years, he said that crime rate in the province had increased by 110 percent apart from 200 vehicles and 600 motorcycles that are snatched on a daily basis.
"When rate of serious crimes is on the rise, where has the massive amount of Rs 530 billion been spent?" Qadri questioned.
Qadri said that Article 9 of the constitution guarantees every citizen safety of his life, property, honour and possession but that the PML-N only allocated budget for maintaining the law and order but does not ensure provision of these rights to everyone.
Felicitating the participants for awakening the entire nation, he said: "Your sit in has made world history and your sacrifices are exemplary and admirable. A revolution has taken place and its credit goes to the participants of this sit-in. Your efforts and sacrifices for a revolution will always be remembered. Whenever my family or I will travel, we will stay at the homes of participants of Inqilab March." He also asked PAT officials to take care of these people and warned of throwing all those out of his movement, who were found negligent to Inqilab March participants. He said that the people have become part of the revolution march in a bid to change the fate of country.
"Wave of this revolution will spread into all parts of the country soon and no one will dare stop it," Qadri said, adding, "We will struggle for rights of the poor till last breath."
Dr Qadri urged participants to work for accomplishment of his mission. Most of the goals of revolution march have been achieved and today a revolution has become the voice of every heart other than only a few members of privileged families.
Source: www.dailytimes.com.pk
Source : http://www.dailytimes.com.pk/national/28-Sep-2014/dr-qadri-calls-parliament-an-anti-public-entity