Daily Times: Qadri to expand protest to whole country after Eid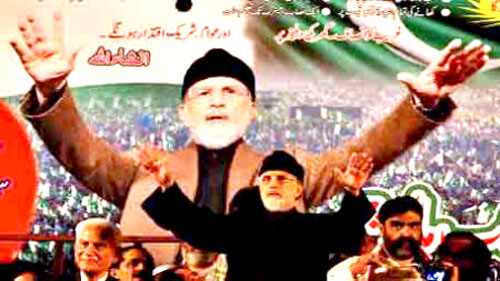 ISLAMABAD: Pakistan Awami Tehreek (PAT) Chief Dr Tahirul Qadri has announced countrywide agitation against the sitting regime after Eidul Azha while vowing to expand his movement by visiting every city of the country to mobilise the masses against rulers.
Addressing his supporters on Constitutional Avenue, he claimed that criminals would be wiped out of the country once the revolution took place and said why people should trust the prevailing system that could provide them justice, protection and employment. He said that a country cannot survive where there is no rule of law and justice. "I myself will burn the effigy of existing system with an objective to end the prevailing system," fiery Dr Qadri said. "We will go to every city to support the voice of poor and downtrodden segment," Dr Qadri said, adding that the oppressive system would soon be rooted out. The emotional anti-government Canadian cleric said that his party while coming to government would spend 20 percent of Grass Domestic Product (GDP) on education and about 12 percent of GDP on health sector of the country. "Has the government and the system ensured provision of education and health to the masses?" he asked.
During his speech, PAT workers also burnt bundles of cotton in protest as mark of protest against not increasing cotton support price to show solidarity with growers. He described the agriculture policies of government cruel. Dr Qadri said that Pakistan was an agricultural country which the incumbent corrupt rulers had destroyed by paying no heed to this sector and said that it had ruined the people associated with the sector. He stressed that the government recruits honest and qualified officers and makes them accountable. He directed the government to expel incompetent officers urgently. A country cannot survive where there is no rule of law and justice, he added.
Source: www.dailytimes.com.pk
Source : http://www.dailytimes.com.pk/islamabad/02-Oct-2014/qadri-to-expand-protest-to-whole-country-after-eid