PAT turned into electoral party, will take part in upcoming elections: Dr Tahir-ul-Qadri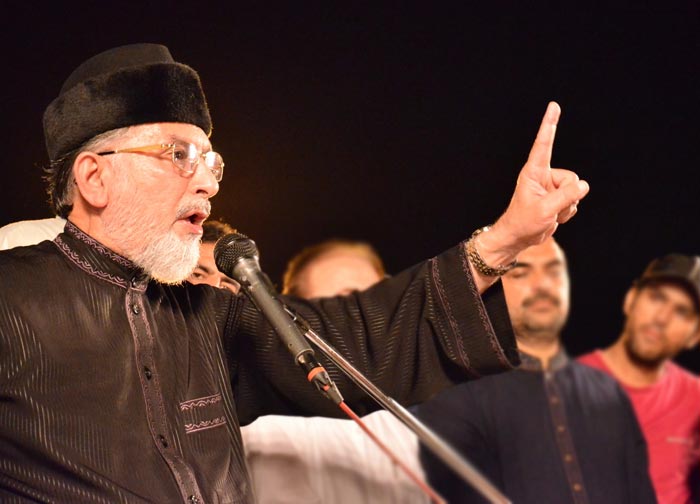 In what can be termed as the most significant and path-breaking development, PAT leader Dr Muhammad Tahir-ul-Qadri has declared that Pakistan Awami Tehreek (PAT) will take part in all the upcoming national and local bodies elections as an electoral party. He vowed to make PAT the biggest political party of the country, adding that no one should keep sitting at home. He said that we will only rest when we demolish idol of oppression and corruption.
Addressing the participants of revolution march in front of Parliament House on October 2, Dr Tahir-ul-Qadri said: "From today onward, Pakistan Awami Tehreek will take party in electoral politics irrespective of whenever next elections are held. We cannot compromise with present system. People have seen real face of the rulers. We will not give floor of Parliament to looters and robbers and bring about change by coming into Parliament."
Dr Tahir-ul-Qadri also announced to hold two public meetings in Faisalabad and Minar-e-Pakistan Lahore on October 12 and 19 respectively. He said that the doors of contesting elections on PAT ticket have opened for pro-masses people. He said that now Pakistan Awami Tehreek will eliminate the present oppressive system by coming into Parliament. He said that the credit of PAT becoming an electoral party goes to participants of revolution march and sacrifices of martyrs. He said that tickets will be distributed on the recommendations of PAT workers. Only they will be source of power in the party.
Dr Tahir-ul-Qadri blasted the performance of the present government. He said that due to plunder and mismanagement of the government, the state of Pakistan's economy is dire straits which is manifest from the fact that it is getting a loan of Rs. 100 billion after every 3 months from local banks. He said that in parliamentary and presidential democracies throughout the world, loan is taken after approval of assembly but there is a kingdom in Pakistan where dictate of rulers is the last word on state policy. He said that the present government has taken loan of Rs. 300 billion from local and foreign banks, which has increased inflation & price hike in the country. He said that the government does not have any economic policy and people have no idea of local and foreign loans, which have made them even more indebted. He said that all policies of present government are being run on the basis of local and foreign loans and people are unaware of this oppression perpetrated on them.
Dr Tahir-ul-Qadri paid glowing tributes to participants of revolution march. He said that 50-day old sit-in of revolution march established a new world record in history. He said that we are fighting for rights of every province, adding that we will expand revolution sit-in campaign in all four provinces. He said that we will deliver rights of every city and province to them through just distribution of resources. He made it clear that our struggle is centred on 10-point revolutionary agenda, which we will implement, come what may.
Dr Tahir-ul-Qadri demanded of Election Commission of Pakistan to upload asset details of all legislators on website so that people could access information. He said that those who haven't submitted them should be disqualified. He said that Election Commission of Pakistan is blind and disabled which does not have any power to hold fair, free and independent elections in the country.
Dr Qadri said that no national policy was ever made to increase exports of items locally made here. He said that national policy is framed only when leadership is not only sincere with nation but has also a vision to achieve the destination. He said that rulers bring back contractors from abroad in the name of development, adding that they never bring stable economic models that could be replicated here. He lamented that Pakistan tops the list of countries whose highly educated people are leaving their motherland and settling abroad. He said that we will put Pakistan on trajectory of socio-economic development by eliminating corruption through establishment of participatory democracy. He said that if people are prosperous, institutions are free and there is no corruption, no one can dare impose martial law in the country.