Our revolution is aimed at ending extremism, says Qadri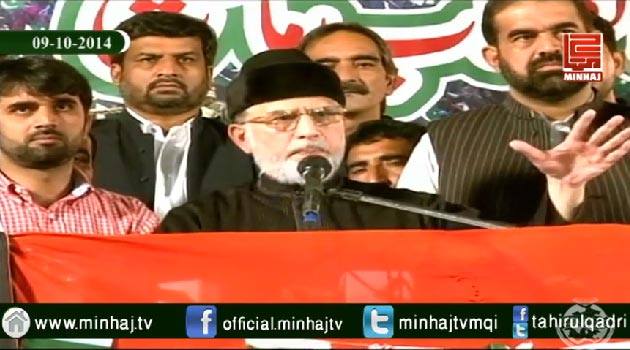 ISLAMABAD: Pakistan Awami Tehreek (PAT) chief, Dr Tahirul Qadri has said that our revolution is aimed at ending extremism from the country, while our next station will be Faisalabad, ARY News reported.
Addressing the participants of the Inqilab March on Thursday, Tahirul Qadri said that all of the national institutions are running in deficit and the entire system of this government is based on corruption.
He added that the rulers do not make appointments on merit and place their own men on key government posts with millions of salaries.
"People have full right to inquire about the merit for government jobs", said the PAT chief.
He said that the doctors and engineers are also not being paid fairly, who are supposed to get highest salaries.
Qadri said that today corruption has become one of the pillars of this country and everyone has submitted to it.
He added this corruption has become part of the political culture, but we will eradicate it from the country for which everyone will have to sit together.
Source: http://arynews.tv/en/our-revolution-is-aimed-at-ending-extremism-says-qadri