PAT to demonstrate power show at Minar-e-Pakistan today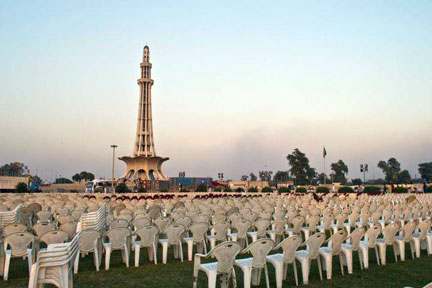 LAHORE (Dunya News) — Pakistan Awami Tehreek (PAT) Tahirul Qadri will be holding a rally at Minar-e-Pakistan in Lahore today (Sunday). PAT has vowed to break the record of their public gathering held at Minar-e-Pakistan in 2012. After a massive rally in Faislabad, Qadri is all set to address his party workers in Lahore.
The preparations for the rally are in their final phase as a stage has been installed and seating arrangement is currently underway. PAT workers will also perform duties to ensure security at the venue along with a heavy force of police.
There are five gates to enter the venue. However, more exit gates would be provided for people leaving after the rally concludes. Other leaders who would address the public during PAT include Chaudhry Shujaat Hussain of Pakistan Muslim League-Q (PMLQ) and leaders of Sunni Itehad Council and Majlis Wahdat –e- Muslimeen.
Qadri is expected to reach in Lahore around 3pm and would also pay a visit Data Darbar on his way to Minar-e-Pakistan. He is likely to address the rally at 5PM.
Source: http://dunyanews.tv/index.php/en/Pakistan/241304-PAT-to-demonstrate-power-show-at-MinarePakistan
Source : http://dunyanews.tv/index.php/en/Pakistan/241304-PAT-to-demonstrate-power-show-at-MinarePakistan