Workers are my most precious asset: Dr Tahir-ul-Qadri speaks to participants of sit-in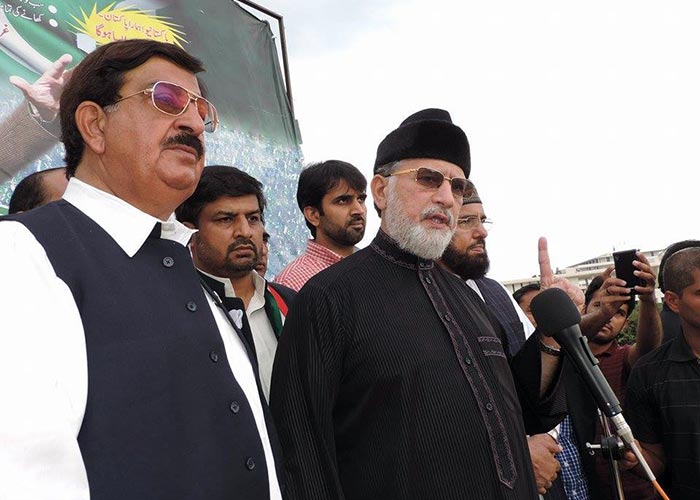 PAT leader Dr Muhammad Tahir-ul-Qadri has said that all expenses of revolution march and sit-in have been borne by PAT workers both inside and outside Pakistan. Paying a rich tribute to workers, he said that there is no more precious asset in the world than workers. He said that his advice to every leader is that he should always love them. He said that both friends and foes admit today that no other party has similar workers as he has. He said that he imparted training of love, peace and morality to his workers all his life and never taught them to fight but they still proved to be mountain of courage in the face of state terrorism and oppression.
Dr Muhammad Tahir-ul-Qadri made these remarks while addressing the participants of revolution march in front of Parliament House on Saturday evening. He said that the workers of no other party can match steadfastness, courage and sacrifices of our workers even if they are born 100 times. He said that our 2-month old sit-in has awakened the slumbering nation and those who are still sleeping will be awakened by our countrywide public meetings. He said that the struggle and sacrifices of PAT workers will form first chapter of history of Pakistan's revolution.
Highlighting the hollowness of the system, Dr Tahir-ul-Qadri said that revolution will certainly come in Pakistan and the current system cannot stop the way of revolution. He said that Pakistan's current system is based on injustice, corruption, lies and slander and it explains why there is rat race in society, while satisfaction, peace and tranquility are non-existent. He said that he is telling with responsibility in light of Quran & Sunna that a far worse system is in vogue in Pakistan than that of Kufr. He said that western countries progressed because they gave justice and basic necessities of life to their societies. He explained that Allah Almighty is in no need of Hajj and pilgrimages. Those usurping rights of His people and perpetrating oppression are worse than non-believers.