PAT Women Wing holds countrywide demonstrations to mark passage of 5 months of Model Town tragedy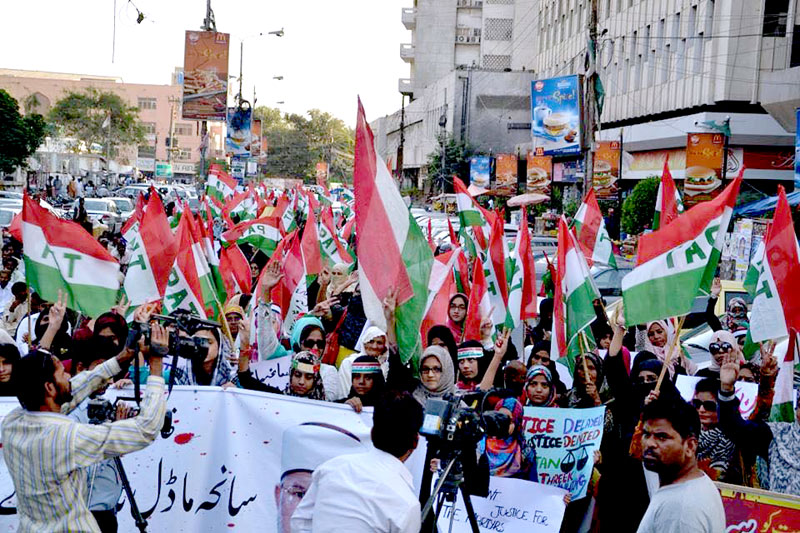 Pakistan Awami Tehreek (PAT) Women Wing, Monday, held demonstrations in front of press clubs in all major cities of the country to mark completion of five months of June 17, the day when unfortunate Model Town tragedy took place and protest issuance of arrest warrants of Dr Tahir-ul-Qadri. The peaceful protest demonstrations were held in Islamabad, Rawalpindi, Peshawar, Lahore, Karachi, Multan, Faisalabad, Gujranwala, Gujrat and Jhelum.
The hundreds of women and children attended these demonstrations. They were holding placards and banners. The protestors also carried flowers to express their love, and devotion with the martyrs. The hundreds of women participated in the protest organized in front of Lahore Press Club.
Addressing the participants, Ms. Ayesha Shabbir, central Women Wing leader, said that the cruel and stone-hearted rulers gave a message to the whole nation by killing innocent civilians on June 17 that they possessed stones instead of hearts in their bosoms. She said that the entire nation would have to rise against such rulers, adding that the living nations remember the sacrifices of their martyrs and hold their contributions as a matter of pride. She said that all women of the nation, be they mothers, daughters or sisters, support martyrs of Model Town tragedy, adding that PAT Women Wing pays an abiding tribute to their benefactors who laid down their lives for the noble objective of revolution and expresses its complete solidarity with their families.
Ms. Ayesha Shabbir termed the JIT constituted by the Punjab government a joke with martyrs' blood and principles of justice and fair-play. She said that there is no way the blood of martyrs will be betrayed nor will the destination of revolution be lost sight of for which our brothers and sisters gave their life. She said that revolution is the only way to beautify the future of this nation and bring it out of multiple crises. She said that one-sided JIT established to probe Model Town tragedy is based on fraud, which has been rejected by PAT. She said that killer police, which is the main accused in the matter, has become investigator, adding that principles of justice are being flouted with abandon through fake evidence.
The PAT Women Wing leader made it clear that unless the Chief Minister, who planned and executed Model Town incident, resigns from his position, there is no ray of hope regarding the conduct of fair investigation into the incident. She said that five months have gone by since that unfortunate day and killers are still at large. She said on this day we pledge with our martyred sisters and brothers to continue to strive for justice and bring their killers to justice. She said that whatever be the circumstances, the blood of martyrs would not go in vain. She said that we would avenge these killings by bringing about revolution in the country.
Speaking to the participants of the protest demonstration, Ms. Atia, President of Lahore chapter of Women Wing, said that we would not lose hope till the last breath of our life, adding that revolution is our destination and we would not rest till we achieve this destination for which our workers have laid down their lives. She said that the martyrs proved through their supreme sacrifice that no obstacle can make us waver in our resolve. She said that they lifted our heads with pride.
Ms. Atia said that the Preamble of Pakistan's Constitution prescribes three conditions namely equality, fairness and justice. She said that the oppressive rulers riddled the bodies of those with bullets who have been waging a struggle for rights of 180 million people on June 17. She said that provision of security to every citizen is fundamental duty of every state but the way the government tore the Constitution into shreds by perpetrating state terrorism and violence on the innocent civilians for 15 hours does not find a parallel in the world history.
Addressing the demonstrators, Ms. Zareen Latif said that we have rejected the JIT because in the presence of the Chief Minister and police that are principal accused, the requirements of justice cannot be fulfilled. She said that it is a matter of shame for the Chief Minister that 13000 incidents of rape out of 15000 took place in Punjab alone. She said that PAT sit-in has become a countrywide revolutionary movement and the millions of the poor including women support Dr Tahir-ul-Qadri's revolutionary agenda. She said that it is time to support Dr Qadri in his struggle to send the corrupt system packing.
Ayesha Qadri, Zara Malik and others also spoke on the occasion.
Karachi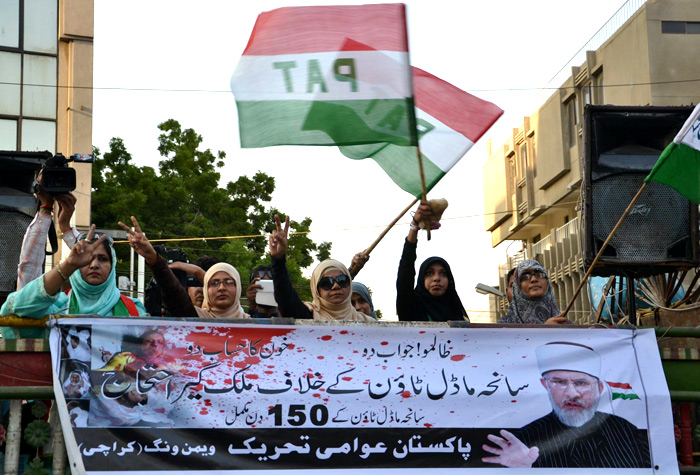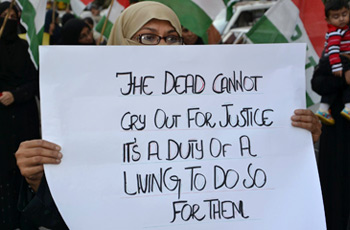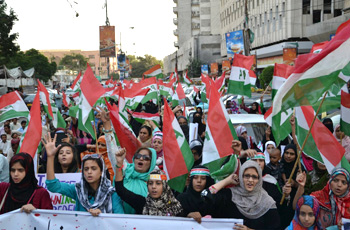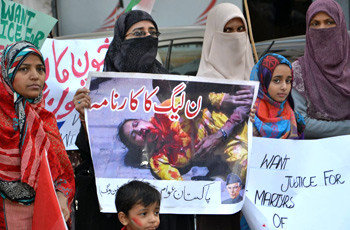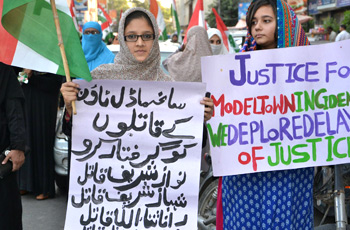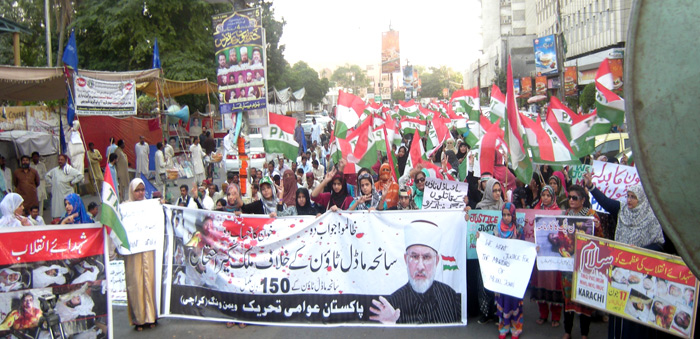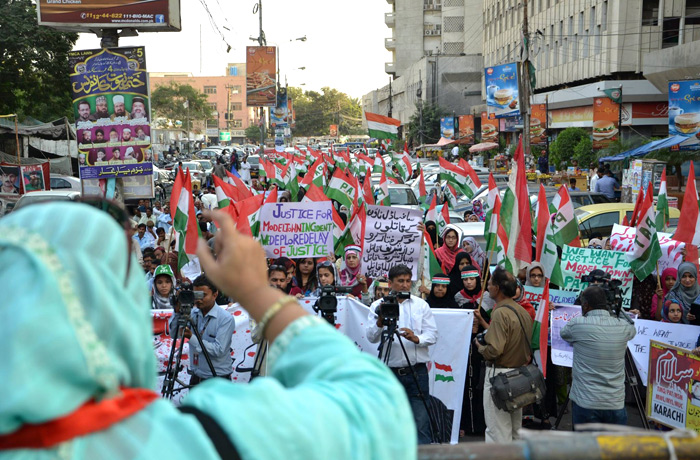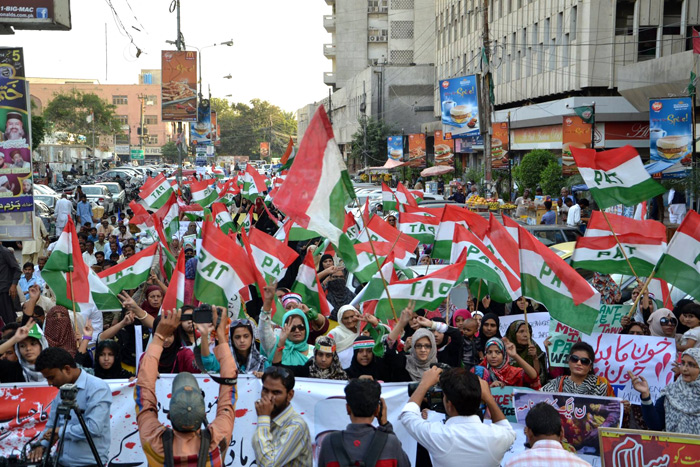 Islamabad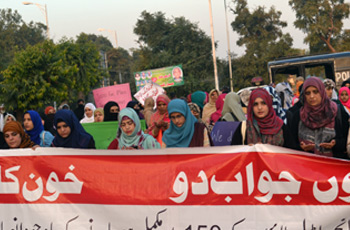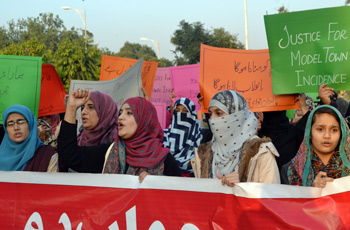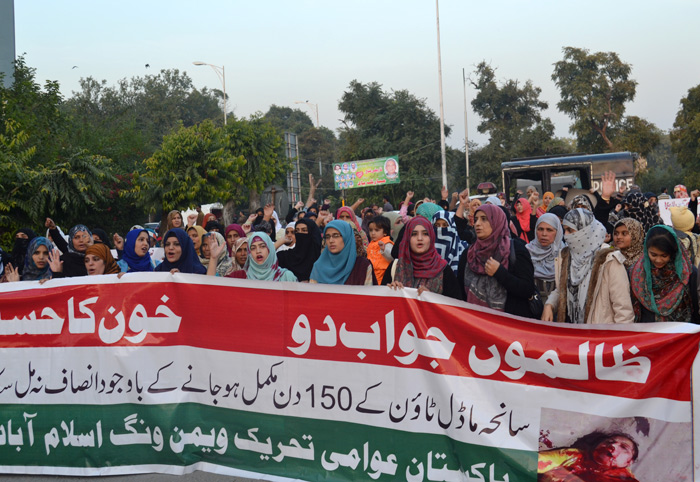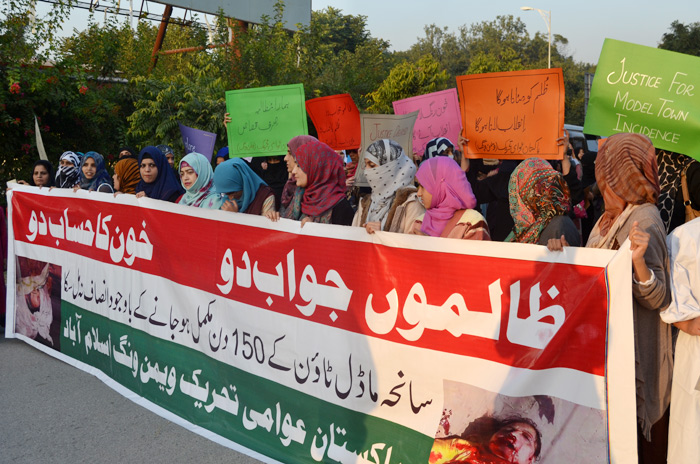 Jhelum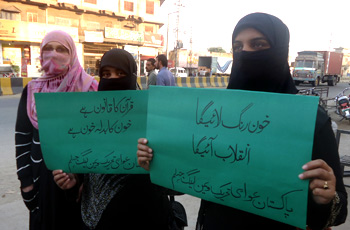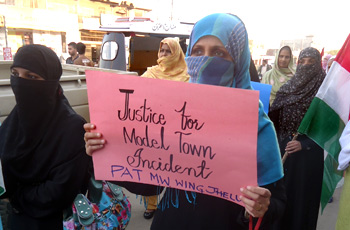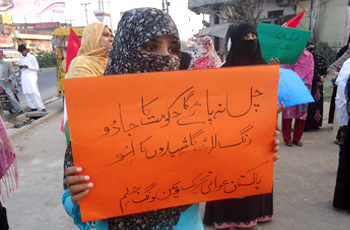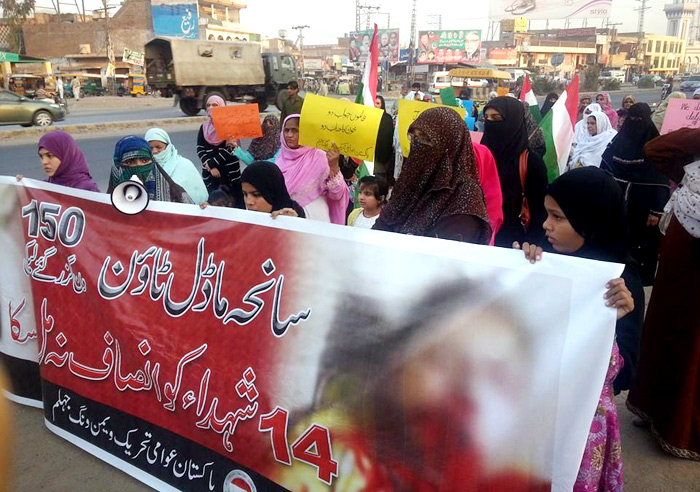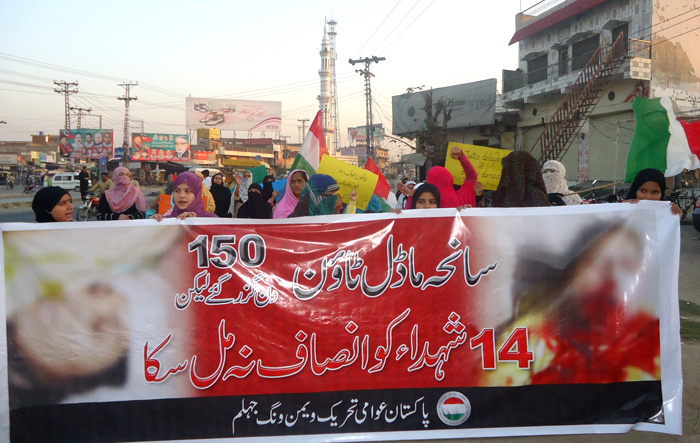 Faisalabad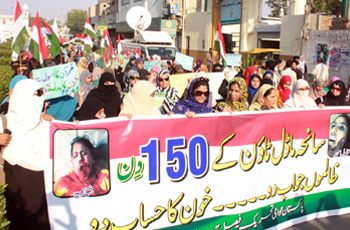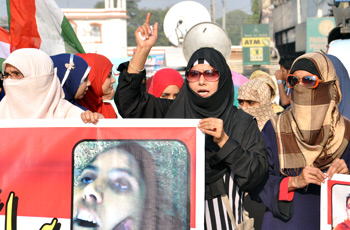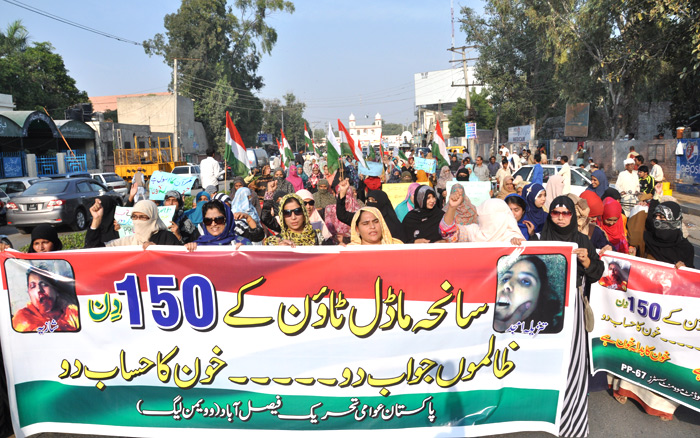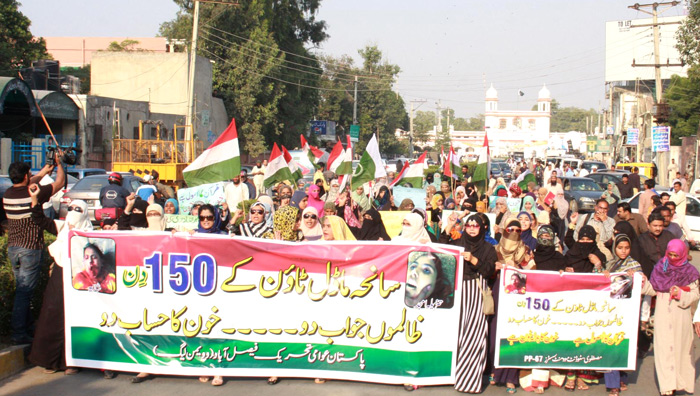 Peshawar