MQI attends an interfaith seminar on 'peaceful co-existence'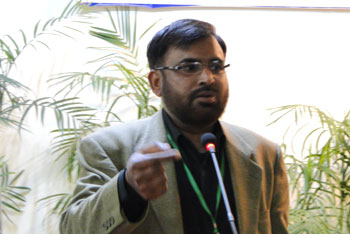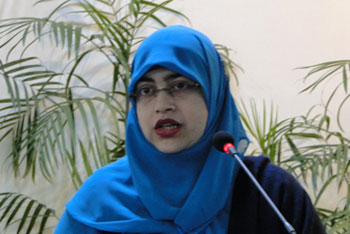 A two-day seminar was organized on the subject of 'peaceful co-existence' under the banner of Christian Study Centre Rawalpindi. A delegation of Minhaj-ul-Quran International led by Sohail Ahmad Raza, Director of Interfaith Relations and Minhaj Women League leaders including central Secretary General Mrs. Razia Naveed, Assistant Editor monthly Dukhtran-e-Islam Malika Saba, Coordinator Women League Ayesha Mubasher, and office bearers and leaders of Women Wing at Tehsil headquarters attended the seminar. Christopher Sharf and Miss Fahmeeda, Coordinators of Christian Study Centre Programme, received the guests on arrival.
The formal proceedings of the seminar got underway with the recitation of the Holy Quran by Ayesha Mubasher. Malika Saba had the honour of reciting Naat in the honor of the Holy Prophet (SAW). Miss Jennifer, Director of Christian Study Centre, made welcome remarks in which she thanked the guests and participants for taking time out to attend the seminar.
Speaking on the subject of mysticism, Mrs. Razia Naveed, Secretary General of Minhaj Women Wing, said that Sufism came into being during the blessed life of the Holy Prophet (SAW) and that it is not an innovation as it is supposedly made out to be. She said that Sufis are revered and blessed people whose lives are dedicated to the service of humanity without any discrimination of caste, colour, creed and race. She said that they are champions of love, peace and tranquility. She said that winning pleasure of Allah Almighty is the sole purpose of lives of the saints and mystics for which they even make permissible things forbidden for themselves. She said that Sufis are magnanimous like sun, generous like a river and obedient like earth, adding that as these blessings of God are not limited to any particular people, in the same way Sufis' doors are open to all people of every stripe, colour and religion. She said that they are universal people who are not limited to any particular area and people belonging to all religion benefit from their teachings. She said that real Sufi is the one who is beneficial for the whole humanity and includes others in his knowledge, wisdom, mercy and blessings.
Mrs. Razia Naveed said that Dr Tahir-ul-Qadri is busy promoting the real and true concept of mysticism in the modern times and is playing his role effectively for promotion of peace, interfaith dialogue, harmony and brotherhood among the humanity. She said that the leaders and followers belonging to all religion and civilized world would have to act upon the teachings of the Sufis today to make this world a hub of peace, security and love. She highlighted the need of creating love, tolerance, moderation, forbearance and sincerity in one's actions and thoughts for this purpose.
Speaking on the occasion, Sohail Ahmad Raza said that these are the Sufis and mystics who were instrumental in spreading the message of Islam in every nook and corner of the sub-continent. He said that the Sufis gave the message of brotherhood, love, peace and oneness of God to the whole humanity and as a result of which millions of people accepted Islam. He said that Sufism is our real asset, adding that MQI Interfaith Relations has been founded on the great Sufi ideals. He said that we can make the nation get rid of terrorism and terrorism and make this country hub of peace by acting upon the teachings of the Holy Quran and Sunna.
Hafiz Nauman Hamid Ali of Director Al-Khair Seminary, Miss Jennifer, Yaqub Paul, and Reverend Ashak Naz spoke on the occasion as well.
The Minhaj Women Wing put up a stall of books authored by Shaykh-ul-Islam Dr Muhammad Tahir-ul-Qadri. A large number of people visited the stall and took keen interest in the books. The MQI delegation also visited the Christian Study Centre. Sohail Ahmad Raza gifted the books of Dr Tahir-ul-Qadri for Christian Study Centre and Christian Training Centre. Miss Lubna, teacher of Christian Training Centre, also gifted books to the delegation.