Mehfil-e-Milad under aegis of Mustafvi Students Movement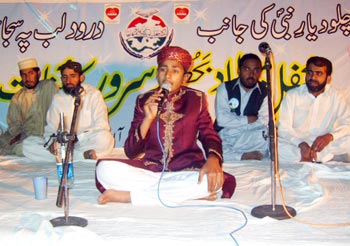 The annual gathering of Mehfil-e-Milad (saw) was held in the main campus of International Islamic University, Islamabad under the banner of Mustafvi Students Movement. Mr. Fakhar Zaman Adil presided over it, while President MSM (Islamic University) Muhammad Saleem Ishaq was the guest of honour at the occasion. Before the start of the programme, the main campus of the university was decorated with multi-colour electric bulbs and it presented beautiful scene.
The regular proceedings of the programme got underway with the recitation from the Holy Quran by Qari Muhammad Bilal followed by Naat Khawani after the Isha prayers. The venue had become full of participants by this time. The management had to make emergency arrangements due to rush of guests. People belonging to various strands of opinion were also present in this Mehfil in addition to the students of the University.
Naat Khawani started at 9:30 p.m. and the renowned Naat Khawan of QTV Ikram Raza carried it forward with his beautifully recited Naats. Prior to him, the local Naat Khawans presented Naats in the honour of the Holy Prophet (saw). Renowned Naat Khanwan Muhammad Abid Chishti also presented Naat in his unique style. The Mehfil reached its peak point when the Minhaj Naat Council came to recite Naat. The council also presented 'Kalam' of Shaykh-ul-Islam Dr Muhammad Tahir-ul-Qadri in its characteristic style.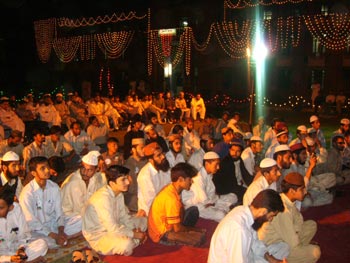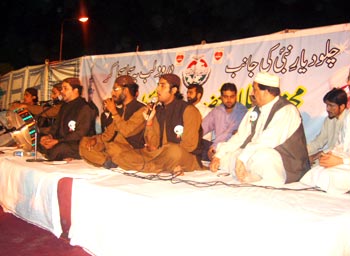 Expressing his views, President MSM, Muhammad Saleem Ishaq, said efforts were being made by certain quarters to deprive the Muslims of the love for the Holy Prophet (saw). Holding Mehfil-e-Naat and Mehfil-e-Milad formed an important part of reconstruction efforts. He paid glowing tribute to the efforts of Minhaj-ul-Quran International and Dr Muhammad Tahir-ul-Qadri in this regard. He said MQI was busy in spreading the message of love for the Prophet (saw) in every nook and corner of the world. A time would come when every member of this universe would celebrate Milad.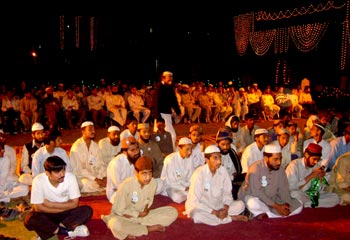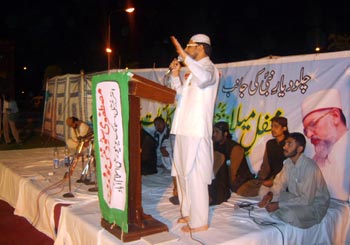 The programme came to an end with the recitation of Durood-o-Salam. Mr. Fakhar Zaman Adil led the special Dua. Before this programme, another Mehfil-e-Milad was held at the Shaker Perian, a beautiful resort in Islamabad. The people participated in this Mehfil in addition to students of Islamic University.