Quaid Day celebrations held under MWL Islamabad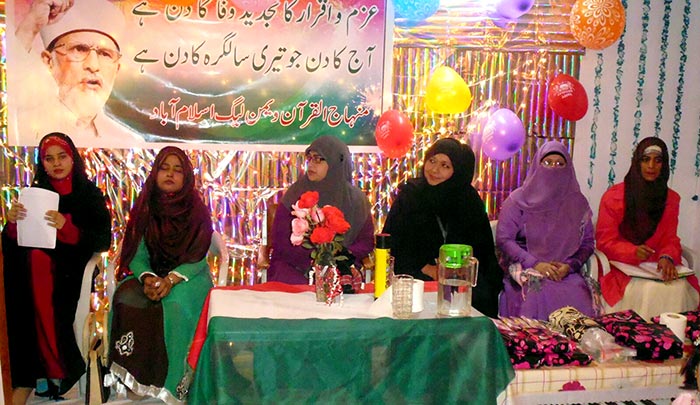 Quaid day ceremony was held under the banner of Minhaj Women League (Islamabad chapter) on 27th February 2016. A large number of women from across the city participated in the programme to pay tributes to Dr Tahir-ul-Qadri for his extraordinary services. The proceedings of the Quaid day programme commenced with recitation of the holy Quran by Saira Rasheed followed by Naate-e-Rasool presented by Ms. Shabana.
Presenting her welcome address, President Minhaj Women League Mrs. Robina Sohail threw light on the services and contributions of Dr Muhammad Tahir-ul-Qadri. She said that the PAT leader played a critical role in creating awareness among the people about their constitutional rights. She said that the revolution march and sit-in form glorious chapter in the annals of our national history wherein people were reminded of their rights and urged to play their role in this regard.
Ms. Razia Naveed, central leader of MWL, was invited to speak to the Quaid-day celebration ceremony. She has endorsed the view that the PAT Chairman is an honorable pillar of Pakistan and Islam, who has guided the nation at the time of crisis in every possible way. She said that now he has launched "Zarb-e-Aman" as an alternative against extremism and terrorism to complement Operation Zarb-e-Azb. She said that there is a dire need of joining hands with him to root out evils of terrorism and extremism from the motherland.
In order to put life into the gathering, MWL-Naat Council had the honour of reciting Naat which electrified the audience. MWL-RWP District Team President Naheeda Rajput also spoke at the event. Seema Tahir (lady councilor) and Shumaila Fazal (MSM Secretary) also joined the celebration. At the end, Ms.Aneesa prayed for long and healthy life of PAT Chairman.