MQI South Punjab lays out six-month organizational plans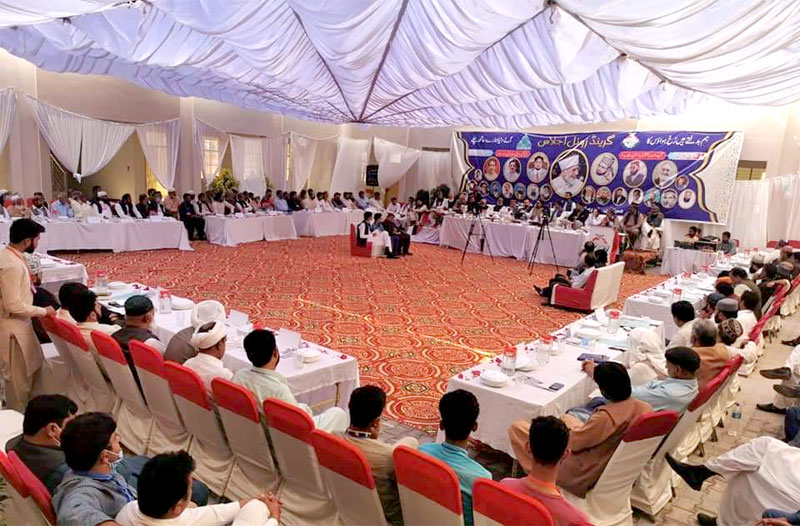 A grand zonal meeting of the MQI South Punjab chapter was held on March 21 in Minhaj Girls College Khanewal. Naib Nazim-e-Aala South Punjab zone, Sardar Shakir Mazari, presided over the meeting, which was attended by naib Nazim MQI South Zone Chaudhry Javed Ashraf Warraich, Rao Muhammad Ishaq Khan, Mumtaz Hussain Noon, Makhdoom Shahbaz Shah Hashmi, Sahibzada Muhammad Aslam Sabri, Rana Gulzar Ahmad, Rana Muhammad Zahir-ul-Qadri, Ghulam Qadir Khan Sarani, Muhammad Ali, Noor Muhammad Sahoo, Chaudhry Muhammad Farooq, Prof Javed Akhtar Zawari, Dr Rafique Ahmad Bhutta and over 250 office-holders of the local chapters belonging to 23 districts of South Punjab.
The proceedings of the meeting got off with a recitation from the Holy Quran by Zeeshan Irshad followed by a recitation of Naat by Muhammad Umar. Ashfaq Ahmad Baati, General Secretary of MQI Khaenwal, conducted the proceedings. The representatives of district chapters introduced themselves and their colleagues. They also presented the biannual progress reports of their respective organizations.
Naib Nazim-e-Ala Sardar Shakir Mazari introduced the office-holders of the zonal chapter and presented a working plan for the year 2021-22. Announcing the organizational emergency for six months for the achievement of the targets. he directed that all efforts must be employed to achieve the organizational objectives till September 30.

Sardar Shakir Mazari said that local chapters in all 1000 union councils will be established in the given time-frame. He said that 10 thousand Durood "halqajaat" and 20 thousand family "halqaat" will also be set up. He said that 5500 new companions and 1000 life-members will also be made in this period, stating that the restoration of 1500 defaulters is also part of the agenda.
Outlining the objectives, Sardar Shakir Mazari said that completion of record and the establishment of district and provincial offices will also be ensured besides linking 1000 religious seminaries with Nizam-ul-Madaris Pakistan. He said that district contact councils will also be brought into being for the purpose of coordination. He asked every Rafique of MQI to make sure that they hold Halaq-e-Durood at their home on weekly basis. He directed the office-holders to always organize the oath-taking ceremonies wherever they set up a new chapter. He said that we have to include 25000 new members in the MQI family in the next six months.
The meeting was followed by sumptuous lunch and it came to end with Dua of Makhdoom Shahbaz Shah Hashmi.