Khushab: Inaugural ceremony of the 'Quranic Encyclopedia' held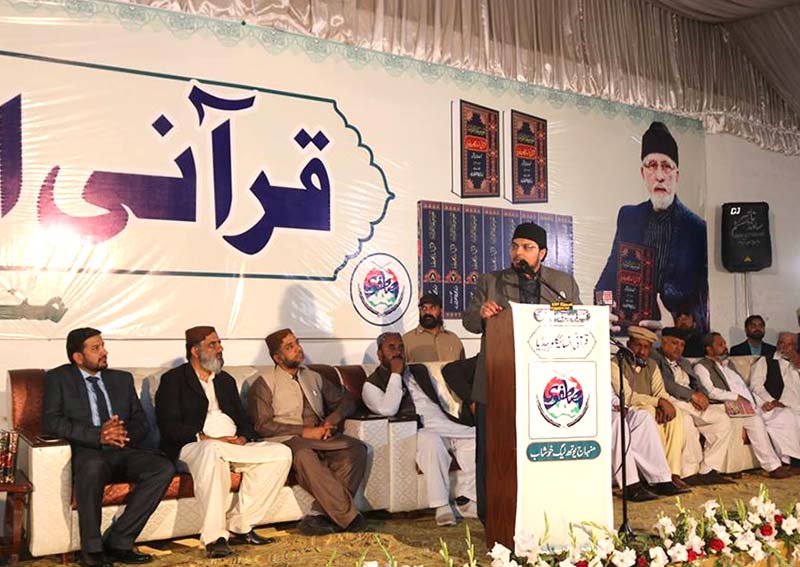 The inaugural ceremony of the 8-volume Quranic Encyclopedia compiled by Shaykh-ul-Islam Dr Muhammad Tahir-ul-Qadri, which is a treasure of knowledge containing 5000 topics, was held under the banner of the Minhaj-ul-Quran International Khushab on March 10, 2019. President MQI Dr Hussain Mohi-ud-Din Qadri presided over the ceremony and delivered his keynote address. Those present on the occasion included Prof Muhammad Ahsan Mazhari, Prof Qayyum Zaman, Rana Muhammad Idrees, Mahwish Iqbal Awan, Mazhar Mahmood Alvi, Mansoor Qasim Awan, Inam Mustafavi, Syed Mohsin Raza Shah Naqvi, Ghulam Rasool Shah, Tanvir Ahmad, Syed Shamsul Arifeen, Prof Khalid Jilani Tiwana, Abdul Majid Alvi, Abdur Rahman Awan, and Ahsan Chishti. The representative of other political and religious parties and the media community were also in attendance.
Speaking on the occasion, Dr Hussain Mohi-ud-Din Qadri said that thanks to the efforts of MQI, the scholarly traditions of our ancestors with regard to the study of the Holy Quran are being revived today, adding that the results of this struggle have also started to appear. He said that the Encyclopedia has opened new doors of understanding in terms of the Quranic studies and it is helping understand the Word of God.