South Korea: Mawlid-un-Nabi (PBUH) Conference by MQI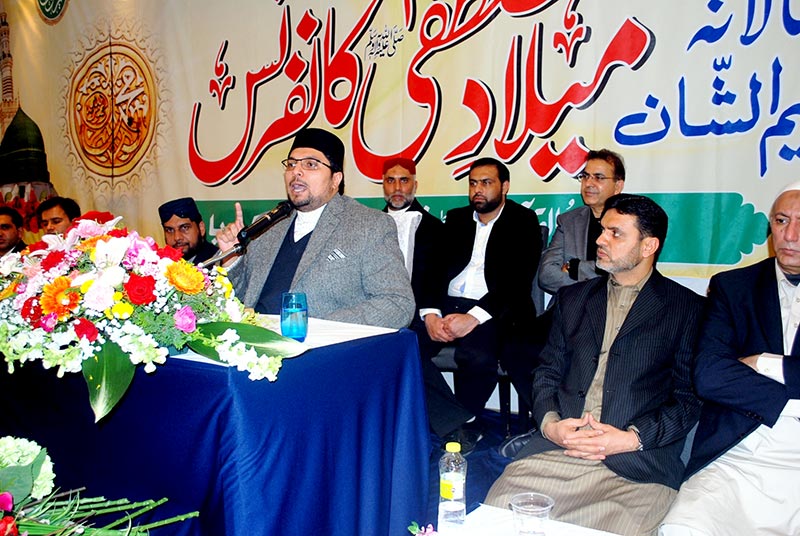 A Mawlid-un-Nabi (PBUH) ceremony was organized under the banner of Minhaj-ul-Quran International (South Korea chapter). MQI President Dr Hussain Mohi-ud-Din Qadri was the guest of honour on the occasion. Muhammad Jameel Qadri, head of Minhaj Asian Council, Ali Imran Qadri, president of Minhaj Asian Council, Hafiz Muhammad Tahir, president of MQI South Korea, Mardan Ali, president of PAT South Korea, Allama Muhammad Raza Qadri, Allama Abdul Mustafa, Malik Muhammad Mazhar, Mudassar Cheema, Abdul Qadoos Bhatti, Allama Muhammad Ijaz, Shariq Saeed, Shafique Khan, Zubair Khan, Malik Akhtar, Muhammad Asghar and a large number of people of the expatriate community attended the spiritual gathering.
The proceedings of the programme got underway with the recitation of the holy Quran by Hafiz Muhammad Tahir, whereas Mardan Ali Qadri, Javed Sajjan, and Muhammad Nawaz Chishti recited Naats.
Muhammad Jamil Qadri, Amir of Minhaj Asian Council, presented the welcome address in which he thanked all the participants for attending the programme. He said that arrival of Dr Hussain Mohi-ud-Din Qadri is a matter of immense honour of the Muslim community living in South Korea.
Delivering his keynote address, Dr Hussain Mohi-ud-Din Qadri said that Allah Almighty creates man with the natural emotion of love, whereas the emotion of hatred is not natural. He said it is in nature of man to love his genesis, adding that the holy Prophet (SAW) is the person for whom this universe was created. Therefore having extreme love for him is just natural. He said that the root of the Muslim unity lies in the love of the beloved Prophet (SAW).
Dr Hussain said that MQI under the leadership of Shaykh-ul-Islam Dr Muhammad Tahir-ul-Qadri is on the mission of spreading the emotion of love and affection in the world. He said that our dream of peaceful and prosperous Pakistan has been eclipsed by terrorism and extremism. He said that PAT is struggling for just, equitable and fair political system in the country. He congratulated all the office holders and workers of MQI and PAT (South Korea) chapter on successful conduct of the Mawlid-un-Nabi Conference.