Mianwali: Ceremony on subject of Dr Qadri: The Global Ambassador held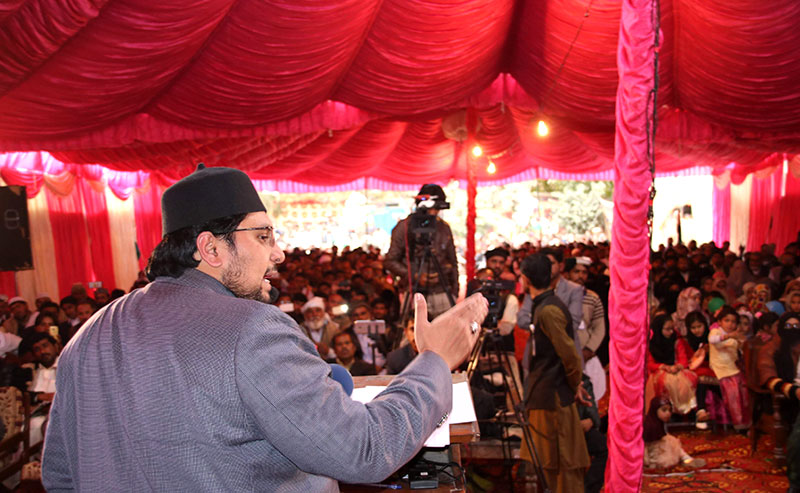 Minhaj-ul-Quran Youth League (Mianwali) arranged a ceremony in connection with the 67th birthday of Shaykh-ul-Islam Dr Muhammad Tahir-ul-Qadri. MQI President Dr Hussain Mohi-ud-Din Qadri was the guest of honour on the occasion.
PTI leader and MNA Amjad Ali Khan, Rana Muhammad Idrees Qadri, Brig (r ) Mushtaq, Mazhar Mahmood Alvi, Umar Qureshi, Mansoor Awan, Inam Mustafavi, Ali Raza Natt, Irfan Niazi, Zainal Abedin, Irshad Iqbal, Tahir Batool and the workers of PAT, MYL and MWL attended the programme in a large number.
Addressing the ceremony, Dr Hussain Mohi-ud-Din Qadri said that our class-based system is the biggest hurdle in the way of provision of rights. He said that if people were not given their due rights, then they would hold the rulers by their collars. He said that the people are being killed with abandon and the justice is not provided due to high cost and complexity of the system. He said that the people opt for blood money out of desperation.
Dr Hussain lauded the courage, and patience of the family members of Model Town martyrs who did not allow anyone to buy them either through stick or carrot. He said that such people are the pride of any society. He said that this passion of the workers increases our hope. He said that MQI is a global movement and Dr Tahir-ul-Qadri is a global leader and the revolution is sure to come under his dynamic leadership.
The cake was cut on the occasion followed by prayer for the good health and long life of Dr Tahir-ul-Qadri.